Largest cheese fondue-world record set by Fond du Lac

[Sept 9] FOND DU LAC,Wisconsin,US--Fond du Lac set a World Record on Saturday with the world's largest working fondue pot (8 feet in diameter, weighs approximately 2,000 pounds and is capable of holding 2,500 pounds of melted cheese) and a seven-foot long fork.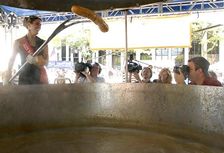 Local manufacturer Brenner Tank designed this years main attraction; an 8 foot wide fondue pot that will weigh over 4,000 pounds when filled with cheese (It weighs one ton empty).
It's expected to cost more than $10,000 and be eight feet wide and three feet deep.
It'll be large enough to hold 275 gallons of cheese - or chocolate.
Engineer Tom Hitchcock says even the utensils are big - like seven-foot-long dipping forks and an eight-foot-wide lid.

"Fond du Lac is the center of the universe, and it's great," said County Executive Al Buechel. "The city deserves to be recognized because it's a great community."

Wisconsin's Alice in Dairyland Jill Makovec sampled the first taste of cheese fondue.

Supple pointed out that it was made with butterkase, fontina, gruyere and one-year-old cheddar.

Fond du Lac is one of the largest and oldest cheese-producing counties in Wisconsin, said organizer Lesley Manowske and interim Fondue Festival director.

The city's first-ever Fondue Festival served up batches of cheesy fondue made with 1,250 pounds of cheese and 12 kegs of beer.

"I'm ecstatic. This festival was enormous and we estimated we had 15,000 people here," Manowske said.
Thousands of spectators packed downtown Main Street to enjoy ideal 70-degree weather, street vendors, fresh produce, live music and samplings of Wisconsin food staples ranging from brats to kettle korn.

Fond du Lac will be keeping the pot in hopes of stirring up more vast servings of….something. "Maybe a big chili cookout next time — who knows," Supple said.

The Fond du Lac Fondue Festival was presented by Agnesian HealthCare and Marian College. Fondue Festival, which evolved from the annual Fall Festival, is destined to become an annual event all its own. It is a creation of the Downtown Fond du Lac Partnership.

All proceeds raised from the fondue will go to the Agricultural Ambassador Program, a one of a kind ag-education program in Wisconsin.



Fastest single-turbine engine plane