Friday, December 21, 2012

Largest Pizza: Italian Chefs breaks Guinness world record (PICS & VIDEO)

ROME, Italy -- The world's largest pizza, named Ottavia to pay tribute to Rome's first emperor Octavian Augustus, has been baked in Italy and contains "19,800 pounds of flour, 10,000 pounds of tomato sauce, 8,800 pounds of mozzarella cheese, 1,488 pounds of margarine, 551 pounds of rock salt, 220 pounds of lettuce and 55 pounds of vinegar"; it weighed in at 51,257 pounds, setting the new world record for the Largest (Round) Pizza ( & for the Largest Gluten-Free Pizza), according to the World Record Academy: www.worldrecordacademy.com/.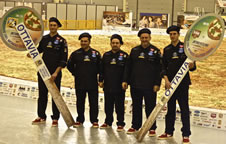 Photo: The Record Pizza Men are ready to serve slices of the "World's Biggest Gluten-Free Pizza" which was made with over 9 tons of Schar gluten-free flour and weighing 25.6 tons. (enlarge photo)

The previous Guinness world record for the Largest Pizza measured 122 feet in diameter and was created by Norwood Pick'n Pay hypermarket in South Africa in the 1990s.

Guinness World Records also recognized the world record for the largest calzone; it weighed 31.4 kg (69.3 lb) and was made by Mike Wilson and fellow employees of the Loveshack restaurant, West Lafayette, Indiana, USA. The world's largest calzone measured 2.84 m (9 ft 4 in) in length and 55.88 cm (22 in) wide.

The World's Largest Pizza was made with 5,000 batches of dough and took 48 hours to bake.

The team was headed by Dovilio Nardi, whose previous endeavors have involved forming an Italian pizza chain that catered toward customers with celiac disease. The event was organized by Dr. Schar, a company that produces gluten-free food.

The chefs named their creation Ottavia to pay tribute to Rome's first emperor Octavian Augustus, who enjoyed a good slice of pizza every now and then.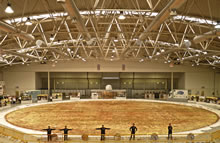 Photo: Covering an area of nearly one-third of an acre and with a circumference of more than the length of football field, the pizza measured 131 feet in diameter and weighed in at 25.6 tons (51,257 pounds). (enlarge photo)

Raw materials and ingredients for "World's Largest Gluten-Free Pizza":
- 9.9 tons of Schar gluten-free flour mixed with 2,480 gallons of water
- 5 tons of tomato sauce
- 4.4 tons of mozzarella cheese
- 1,488 pounds of margarine
- 551 pounds of salt
- 275 pounds of parmesan cheese
- 220 pounds of lettuce
- 55 pounds or vinegar
- 298 gallons of yeast

The five chefs spent over 48 hours baking the dough in over 5,000 batches.

Covering an area of nearly one-third of an acre and with a circumference of more than the length of football field, the pizza measured 131 feet in diameter and weighed in at 25.6 tons (51,257 pounds).

The NIPfood chefs baked gluten-free dough and raw materials in special equipment, currently not on the market, containing thermal lances with temperatures registering between 300° and 500° Fahrenheit.

"We are proud to be the sponsor of the 'World's Largest Gluten-Free Pizza," explained Ulrich Ladurner, founder and president of Dr. Schar Group.

"After thirty years, Dr. Schar continues to lead the industry in raising awareness and educating the world about celiac disease and gluten-sensitivity. Ottavia has given us the opportunity to also demonstrate that gluten-free diets no longer mean suffering at the dinner table for celiacs and those who are gluten-sensitive. With innovation and research, gluten-free foods are now even more tasty, delicious and nutritious than ever."

Related world records:
Largest deliverable pizza: The Giant Sicilian sets world record (PICS & VIDEOS)

Highest pizza toss: Mark Patton breaks world record

Most People Making Sandwiches Simultaneously: Subway sets world record

Most expensive pizza: Steveston Pizza Co. sets world record (PICS)

Largest 'Torta' Sandwich: Mexico City breaks world record (PICS & VIDEO)

Most sandwiches made in one hour: Jewish Community sets world record

First pizza vending machine: Let's Pizza sets world record (VIDEO)

Cheapest sandwich: The toast sandwich sets world record

Largest gluten-free pizza: Steven and Veronica Negri set world record

Largest BLT Sandwich: Iron Barley set world record (HD Video)

Largest open sandwich: Fremont (Video)

Longest BLT sandwich: Associated Wholesale Grocers (Video)

Longest 'Classic' Sandwich: Hellmann's Light (HD Video)

Most pizzas made in one hour: Brian Edler

Most expensive pizza: Margo's Pizzeria

Most pizzas made in 24 hours: Taft Domino's Pizza

Longest Pizza: Magillo Pizzeria

Largest 'Torta' Sandwich: Mexico City

Largest Open Sandwich: Tommy Moore

Longest ham sandwich: Nico Jimenez

Longest line of pizzas: Jerry's Pizza

Longest Line of Pizzas: Costa Cruises

Last update: Monday, November 18, 2013 4:33 PM