NEW WORLD RECORD:

Longest line of pizzas-world record set by Jerry's Pizza

Longest Line of Pizzas-world record set by Costa Cruises

[June 12] SYDNEY, Australia--Costa Cruises has made history in Sydney by breaking the World Record for the longest pizza line, as part of their 60th birthday celebrations.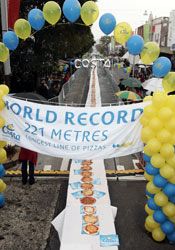 The world record was broken when 826 freshly-cooked pizzas stretching 221 metres were lined up on Norton St in Sydney's Italian quarter of Leichhardt.
Photo: Costa Cruises Pizzas set new World Record

The line was equal to the length of Costa Cruises ship, Costa Classica, which will be based in the Asia Pacific from May 2009.

Led by Sydney chef Ashley Hughes from the restaurant Alio, 25 Sydney chefs tackled the pizza-making challenge, which used more than 500 kilograms of flour, 250 litres of tomato sauce and 350 kilograms of mozzarella cheese.

Thousands of spectators turned up to watch the feat, which started in the early hours of the morning and finished at 1pm.

After the world record was broken, the pizzas were collected by food rescue organisation, OzHarvest, for delivery to local charities to feed the homeless and disadvantaged.

With Costa Cruises donating $10 for every metre of pizza and hundreds of locals participating in the charity event, more than $5000 was raised for Variety, the children's charity.

Costa Cruises Sales and Marketing Director (Pacific-Asia), Dario Rustico, said the cruise line was excited to support such a memorable event in Sydney.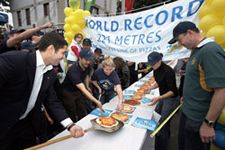 "Italians know how to celebrate in style, and this record-breaking pizza line will no doubt be remembered for some time," Mr Rustico said.

"I can think of no better way to celebrate Costa Cruises ' 60th birthday in Australia, than to work with the local community and charities on this event."

Born of Italian heritage and style 60 years ago, Costa Cruises boasts 12 magnificent modern cruise ships in Europe, Asia, South America, Caribbean and the Middle East, all designed with comfort and entertainment in mind.

The record broke the previous pizza-line record, made only 3 weeks ago in Fort Pierce, Florida. The owner of a Fort Pierce, Fla., pizzeria said he was surprised to hear his recent world record for the longest line of pizzas may have already been broken.

"Records are made to break," Van Duzer said. "But I was anticipating it to last a little longer than three weeks."

Van Duzer said he and his team still have one victory to celebrate -- their event raised about $8,600 for a firefighter whose home was destroyed by a wildfire, while the Sydney event raised only $5,000.

"At least we beat 'em there," Van Duzer said.