NEW WORLD RECORD:
Longest line of pizzas-world record set by Jerry's Pizza

Longest Line of Pizzas-world record set by Costa Cruises

Longest Line of Pizzas-Big Apple Pizza sets world record

[May 18] FORT PIERCE FL, USA --On Saturday Van Duzer and his team from Big Apple Pizza and Pasta broke the World record for the longest line of pizza in the world: 722 feet, 1 inch.


Photo: Big Apple Pizza and Pasta breaks the world record for the longest pizza near the restaurant in Fort Pierce on Saturday. Photo by Palm Beach Post , Courtesy of Van Duzer Foundation. (enlarge photo)

"I didn't want to start this for nothing, I knew we could do it," said Van Duzer, "It was just a matter of how much more length we could add above the old record."

It took about 40 hours of work to make more than 700 pies.

"The record, believe it or not, is in Italy and bring it to Fort Pierce, Florida. 611 feet, 2 inches," said Van Duzer.

The Fort Pierce pizza surpassed the old record by more than 100 feet!

Van Duzer said scores of people helped him to put the event together for his foundation, which is donating part of the proceeds to help the family of firefighter Allen Civita. Civita's home was destroyed by fire earlier in the week.

To gain the victory, Van Duzer's team had to place 756 12-inch pizzas in a straight line without overlapping them across tables stretching down South 35th Street in Fort Pierce.

About a dozen people helped make the pizzas in the middle of the night, starting three days before Saturday's event, Van Duzer said.

They went through 500 pounds of flour, 250 pounds of mozzarella and 30 gallons of pizza sauce for the 722 pizzas, which were given away free after Saturday's official measurement.

St. Lucie County Sheriff Ken Mascara, who led the official measuring, stated he had no doubt about the event's outcome. Public Defender Diamond Litty, whose job was to help prevent any overlap between the pizzas, remarked that the charity event put Fort Pierce on the map for a good cause.

Van Duzer's mission to set a record and benefit a family in crisis was aided by volunteers that included the city and county police and fire departments, high school students, the Explorers, and IRCC.

Van Duzer said the real achievement was raising money for families in need. ''People need money when a crisis happens,'' he said, ``not weeks or months later.''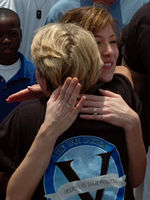 Photo: Dawn VanDuzer, facing, the wife of Scott VanDuzer, the owner of Big Apple Pizza in Fort Pierce and the head of the World Record Pizza Event, hugs Diamond Litty on Saturday after a measurement of the pizza line is completed in front of Big Apple Pizza.Photo by Sarah Grile
(enlarge photo)

The event featured 18 bounces donated by All In Fun Inc., the Avenue D Boys Choir, and a Celebrity Dunk Tank that kept personalities soaked in water throughout the day.

Van Duzer says he already has plans for an even bigger pie. He wants to double the record he set today by throwing a pizza block party.

The previous world record for the world's longest line of pizzas measures 611 feet, 2 inches. The record was set Oct. 28, 2006, by the Tiziano Shopping Centre Tenant's Union in Italy.