Saturday, February 23, 2013

Largest Pansori Sing-along performance: Crown Haitai Confectionery sets world record

SEOUL, South Korea -- 101 officers and employees of Crown Haitai Confectionery and Foods, including CEO Yoon Young Dal, performed Yoon Young Dal's chant "Sacheolga," (a 'song for four seasons'), a short traditional Korean Pansori song, while beating drums, in the Sejong Grand Theater of the Sejong Art Center in Seoul, Korea, setting the world record for the Largest Pansori Sing-along performance, according to the World Record Academy: www.worldrecordacademy.com/.


Photo: The world's largest Pansori Sinh-along performance.
All Photos: CHCF/WRA (enlarge photo)

The Guinness world record for the largest violin ensemble featured 4,645 participants and was achieved by the Changhua County Government (Chinese Taipei) at Changhua Stadium, Chinese Taipei.

Guinness World Records also recognized the world record for the largest taishogoto ensemble; it consisted of 2,864 performers at an event organised by Kindenryu Taisho-koto (Japan) in Shizuoka, Japan.

The 'Sacheolga' is generally sung by a single person, but 100 officers and employees of Haitai including the chairman Yoon, Yeong-dal performed this song while playing a drum, in order to realize the art marketing through which the company can impress customers based on creativity and cultural sensitivity.

Pansori is Korea's traditional singing art designated as the important intangible cultural asset No.5 by the government.
UNESCO also named Pansori as one of the Masterpieces of the Oral and Intangible Heritage of Humanity.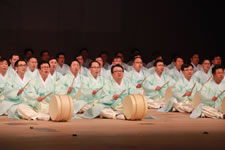 (enlarge photo)

Since the middle of the Joseon Dynasty, Pansori has been developed based on the native melody of southern district.

It is a type of Korean folk art in which a singer (or a performer) plays Korean traditional opera, which is similar to western opera performed by a single person, with the beat played by a drummer.

During Pansori, a singer sings a song along with gesture or dance. This Pansori's running time is for 5 minutes or longer. Some Pansori is played for 9 hours or longer.

Related world records:
Largest electric guitar ensemble: India breaks Guinness world record (VIDEO)

Most people caroling: Christmas Carolers break Guinness world record (VIDEO)

Largest cowbell ensemble: Ryerson University students set world record (VIDEO)

Most people participating in a lip dub: Perpignan sets world record (3D Video)

Largest triangle ensemble: Cambridgeshire Music set world record (Video)

Largest group of carol singers: UK singers sets world record (Video)

Largest shofar ensemble: Associated Hebrew Schools (Video)

Largest maracas ensemble: Ryerson University (HD Video)

Largest busk: Bondi Festival (Video)

Largest angklung ensemble: Washington DC (Video)

Most people whistling simultaneously: Nazareth students

Largest string ensemble: Hillsborough student musicians

Largest Kazoo Ensemble: BBC Radio 3's Red Nose Show(Video)

Most people singing and signing a song: 100000 schoolchildren

Largest Group of Carol singers: Credit Union Christmas Pageant