Largest Bikini Parade-Kellogg Company sets world record

Largest Bikini Parade-Las Vegas sets world record

LAS VEGAS, NE, USA-- Las Vegas Convention and Visitors Authority, Las Vegas Mayor Oscar Goodman, Holly Madison, and 281 bikini-clad women declared the first day of summer with the world's Largest bikini parade on the Las Vegas Boulevard.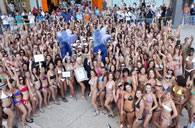 "Las Vegas has an incredibly unique and vibrant pool culture that is unlike any other in the world," said Cathy Tull, Senior Vice President of Marketing for the Las Vegas Convention and Visitors Authority. -photo by Justin Bowen
(enlarge photo)

The occasion marked the 50th anniversary of the building iconic "Welcome to Las Vegas" neon sign and according to the city's mayor, Oscar Goodman, the start of summer on the Strip – a month ahead of other northern hemisphere destinations.

The previous world record for the Largest bikini parade was 250.

Model and television personality Holly Madison ("Girls Next Door") was joined by showgirls from Vegas stage spectacular Jubilee and members of the public for the march.
(enlarge photo)
Holly Madison, a former Playboy centrefold and reality TV star, said: 'Who doesn't want summer a month early? I've been lobbying for it my whole life, frankly.'

They also took part in a pre-march fashion show in front of the city's iconic 'Welcome to Fabulous Las Vegas' sign to mark the 50th anniversary of its installment.

The mayor's declaration of the beginning of 'summer in paradise' was followed by pool parties in some of the strip's best-known hotels.

The best pool parties
"Rehab", every Sunday at the Hard Rock Hotel (001 702 693 555, www.rehablv.com), is the place to drink off the night before — think grass cabanas, underwater music, swim-up blackjack tables, cocktail bars and hundreds of people dancing clad only in bikinis and board shorts.

The Palms (001 702 942 7777), www.palms.com) boasts a three-acre adult playground, featuring two waterfalls, three pools and four bars. The pool deck offers the ultimate aquatic experience. With an almost 3,000 person capacity

The Bare Pool Lounge at the Mirage Resort (001 702 791 7442, www.lightgroup.com) offers poolside pampering, DJs and, as its name suggests, a relaxed, Mediterranean take on beach attire

The Rio hotel 001 866 746 7671, www.riolasvegas.com) offers Sapphire an adults-only, Brazilian themed lagoon that comes complete with a sand beach, waterfalls, three pools and four Jacuzzi-style spas.

The Las Vegas Bikini Parade World Record Video


Related world records:
Largest swimsuit photo shoot-world record set by Cosmopolitan magazine

Largest Gathering of ABBA Impersonators-world record set by Betfair

Largest gay parade in Sao Paolo sets world record

Largest Gathering of Centenarians-world record set at Monroe fair

Largest Gathering Of Santa Clauses-world record set by Porto

Largest Gathering of Muhammads-world record set in Libya

Longest Riverdance line-world record set in Rockland

Largest Gathering of Elizabeths-world record set in Elizabeth

Longest Breakdance Hand Wave-Prescott High School sets world record

Saturday, May 16, 2009