Largest gay parade in Sao Paolo sets world record
[June 25] SAO PAOLO, Brazil--Three million people took part in the 11th gay pride parade in Sao Paulo, Brazil, on June 10, making it easily the world's largest such parade ever.
The president of the Sao Paulo Gay, Lesbian, Bisexual and Transvestite Parade Association, Nelson Matias Pereira, said the march down Avenida Paulista aimed to confront homophobia, machismo and racism, according to the Agencia Brasil wire service.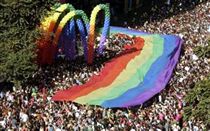 Photo:
Activists take part in the 11th Gay Parade in Sao Paulo June 10, 2007. (REUTERS/Paulo Whitaker)

For their 11th parade, the gays received official backing for the first time. Brazil's ministers for Tourism and Sport, Marta Suplicy and Orlando Silva, attended the parade. The governor of Sao Paulo state, Jose Serra, and city mayor Gilberto Kassab were also there.

Sponsors included Brazil's state energy company Petrobras and the state-owned Caixa Economica Federal bank. The parade is seen as a major cash cow, attracting large numbers of Brazilian and foreign visitors, who boost the receipts of hotels, restaurants and shops.

Marchers included the mayor, the governor and the federal sports and tourism ministers. The official attendance figure was provided by police. Last year, 2.5 million people turned out.

According to the BBC, 70 other Brazilian cities also have gay pride parades. The day before the march, about 1 million evangelical Christians staged an anti-gay "March for Jesus."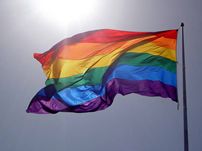 Photo:
The Rainbow Flag identified with the Gay community was originally created by Gilbert Baker for the 1978 San Francisco Pride Parade. It originally had 8 stripes, but was later simplified to the current 6 stripes. An 8 stripe Rainbow Flag flies over Harvey Milk Plaza in the Castro.
(click here to enlarge)

Reports said one participant, Christian pastor Andre Fabiano, used a public-address system mounted on a truck to chant, "Vade retro, Satanism! Vade retro, homosexuality!" -- a paraphrase of a medieval exorcism formula.

On a five-day visit to Brazil, the world's most populous Catholic country, Pope Benedict attracted less than 1 million to listen to his calls to reinforce traditional family values.