Largest gymnastic and artistic performance-Arirang Festival sets world record

PYONGYANG, North Korea -- Arirang Festival, a mass propaganda gymnastics show involving close to 100,000 children and adults, sets the world record for the Largest gymnastic and artistic performance.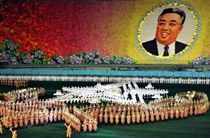 Photo: Dancers perform during the Arirang festival at the May Day stadium in Pyongyang/ AP photos
(enlarge photo)

"Arirang" is the biggest grand gymnastic and artistic performance in the world with more than one hundred thousand performers. The first "Arirang" Festival was held in 2002.

The shows are held in the May 1 Stadium, which with 150,000 seats is the world's largest sports facility outside of Rio de Janeiro.

The show, a major hard currency earner for the impoverished state, involves close to 100,000 children and adults in a performance of acrobatics, gymnastics, dances and huge flip-card mosaic animations.

These typically praise the hardline communist state and its leaders. Seven million Koreans from the North and South, as well as foreigners, have watched more than 180 performances.

"The Guardian", UK: "Repressive military regimes have long been a favourite subject matter for the producers of high-camp musicals. The Nazis appeared in Cabaret, The Sound of Music and The Producers, while Kiss of the Spider Woman was set in a brutal South American state."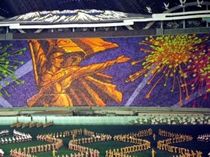 Mass games are one of only a few areas in which the North Korea can claim to be the best in the world, outclassing even Olympic opening ceremonies and Super Bowl halftime shows.

(enlarge photo)

But the show has been criticized outside North Korea as being nothing more than a propaganda tool achieved through the rigid and mechanical training of performers, mostly schoolchildren.

The festival comes one week after the UN's World Food Programme said that hunger in North Korea is at its worst since the 1990s, with five to six million people in need of immediate assistance.

Since the first performance in 2002, Arirang has been staged in 2005 and 2007 to lure South Korean and foreign tourists.

Arirang is due to be staged from Monday evening until September 30.

The North has released to its souvenir shops handmade dolls that embody the main characters, Choson Sinbo said.

"We prepared these unique folk crafts to help foreign tourists not forget the emotion of the Arirang performance even after returning home," Jang Kum-song, a chief souvenir seller, told the daily's website.
Tuesday, August 5, 2008
Related: Human Jumbotron - North Korean Mass Games

Video: North Korea - Arirang Gymnastics Festival
Arirang Mass Games, North Korea
Mass Games Flag Wavers
North Korean Mass Games - Finale