Largest gathering of people dressed as Waldo-world record set by Rutgers University

NEW BRUNSWICK, N.J., USA -- 1,052 Rutgers students
dressed (in red and white shirts and caps) as Waldo from the children's book series "Where's Waldo?" gathered to break the record for the Largest Gathering of People Dressed as Waldo.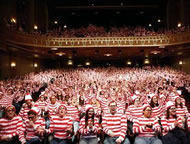 Photo:Rutgers University broke the Guinness World Record for The World's Largest Gathering of People Dressed as Where's Waldo?. (PRNewsFoto/CLASSIC MEDIA, INC./GIANNI CIPRIANO) - enlarge photo

Matt Ferguson, assistant director for student life and the event's organizer, helped with all of the logistics involved. "Organizing this event has been a labor of love," Ferguson said. "Planning for this event actually started back in September.

The committee members, under the leadership of RUPA Vice President Stefanie Kamin, have been working tirelessly for the last month to ensure that this event will be successful."

The group was almost twice the size of the crowd of 577 that previously held the "Largest Gathering of People Dressed like Waldo in a Single Place" record.

The pop globe-trotter has been celebrating his 21st birthday this year.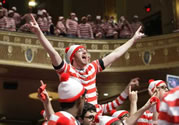 Photo: Some 1,052 people in red and white shirts and caps turned out on the Rutgers University campus Thursday in a bid to stage the largest gathering of people dressed as Where's Waldo. (AP Photo/Home News Tribune, Augusto F. Menezes)
(enlarge photo)

Before the official tally, a number of performers entertained the look-alikes. Among others, there was a capella group "Deep Treble" and the brothers of Iota Phi Theta, who performed a choreographed dance.

"I thought it was awesome," said Michelle Velasquez, a School of Arts and Sciences sophomore. "They had a good mix of organizations coming out for it."

All record-breakers were given an authentic Waldo hat, stripped shirt and black round glasses provided with the assistance of RutgersYOU.com, a student leadership project.

The $5 admission fee for taking part in the event went to charity.
Participants also brought 3,186 books to donate to the New Brunswick school system.

Related world records:
Largest gathering of wheelchair users on ice-world record set by PSI Network Leeds

Largest Gathering of Centenarians-world record set at Monroe fair

Largest Gathering Of Santa Clauses-world record set by Porto

Largest Gathering of Elizabeths-world record set in Elizabeth

Largest gathering of plush toys-world record set by Shawsheen students

Largest gathering of women due to give birth

Monday, April 6, 2009