Biggest freshwater fish ever caught-world record set by Ian Welch

MAEKLONG RIVER, Thailand -- British angler Ian Welch has landed a giant stingray weighting in an incredible (estimated) 265-350kg's after a 90 minute battle-setting the world record for the biggest freshwater fish ever caught using a rod and line.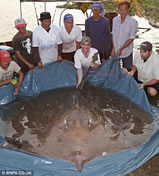 Photo: Its body was 7ft long and 7ft wide its tail measured 10ft and its lethal venomous barb had to be wrapped in cloth while it was out of the water. (enlarge photo)

It took THIRTEEN grown men to heave the fish – which is the size of a garden shed – out of the water.

Anglers Mail journalist and fish biologist Ian Welch recently joined the Fishsiam team to assist in the filming of a documentary with National Geographic Channel featuring Giant Freshwater Stingray.
The 45-year-old nearly disappeared over the side of the fishing boat when the specimen took his bait, which was a snakehead fish.

He said: "It dragged me across the boat and would have pulled me in had my colleague not grabbed my trousers - it was like the whole earth had just moved.

"I knew it was going to be a big one. It buried itself on the bottom and the main fight was trying to get it off the floor. I tried with every ounce of power but it just would not budge."

"After half an hour my arms began shaking and after an hour my legs went. Another 30 minutes went by and then I put a glove on and physically pulled the line with gritted teeth and somehow I found the reserves to shift the fish."

Once the stingray was off the bottom 11.5 stone Ian, from Aldershot, Hants, managed to lift it 30ft to the surface relatively easily.

"That line from the film Jaws came to mind about needing a bigger boat because we had to get it to the shore to tag it." The group managed to put a 12ft wide net under the fish and towed it to the bank where it was weighed on a giant set of industrial scales used in the tagging programme.

Ian added: "It took 13 people to lift it into a large paddling pool we had set up in order to tag it and take DNA samples. I was absolutely exhausted afterwards and did very little for the rest of the day and just celebrated it with a cold beer."

After a thorough scientific examination by Dr.Zeb Hogan and the visiting Thai veterinary surgeon the fish was released back into the river.

The giant freshwater stingray is listed as a vulnerable species on the International Union for Conservation of Nature's red list.


Wednesday, May 6, 2009

Related world records:
Snowy grouper caught by Jere Humphries sets world record

Biggest spadefish-world record set by Leo Olivarez

Biggest lingcod caught by Robbie Hammond set world record
Biggest bison killed-world record set by E.D.Riekens Jr.

Biggest yellowedge grouper-world record set by Heath Cataulin

Giant Fluke caught by Monica Oswald set world record

Largest fish caught on 1 kg line-world record set by Guy Jacobsen

Biggest carp caught in Thailand set world record

Oversized shellcracker set world record