Largest fish caught on 1 kg line-world record set by Guy Jacobsen
[March 16]NORTHLAND,New Zealand--Guy Jacobsen caught a 105 kilograms striped marlin on a one kg line, setting a new world record for the largest fish caught on 1kg line.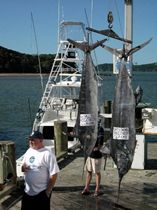 Guy Jacobsen says he had been preparing for months for the big catch.
(enlarge photo)

Onlookers gathered at Paihia Wharf as the striped marlin was brought in and as word got round that a world record was likely.

Jacobsen was stunned to end up with a record for the biggest "fish" on the light line, not just the biggest marlin.

Both Guy and his wife Eryn spend a lot of time chasing records - Eryn won her own one last week and was there to cheer on her husband for his big catch.

Most of the marlin the crew chases are tagged and released but they will be mounting his world record and displaying it either at home or in the Bay of Islands swordfish club.

The previous biggest striped marlin caught on a 1kg line was just 59.6 kilos.