Biggest spadefish-world record set by Leo Olivarez

[June 23]Chesapeake Bay,VA,USA--While fishing for bluefish to use as flounder bait, Leo Olivarez landed a world record spadefish that weighed 9 pounds, 13 ounces.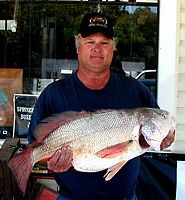 Leo Olivarez, a utility contractor company supervisor from Virginia Beach, was fishing around the rocks of the Chesapeake Bay Bridge-Tunnel's third island.

He was fishing for one species, which he was planning to use to catch another, when a completely different species hit his lure. The strike ended up providing him the catch of a lifetime.

"We were catching small bluefish to cut up for flounder bait," said Olivarez, 55. "The bluefish were breaking around the surface and we were catching quite a few of them with a Berkley PowerBait sand perch."

Olivarez was using only 6-pound test line.

After a 20- to 25-minute fight, Olivarez found out when he pulled a spadefish to the side of the boat.

"He must have been really hungry or something," Olivarez joked. The size of this fish was no joke. At 9 pounds, 13 ounces, the fish topped the 9-pound minimum to earn an award from the Virginia Saltwater Fishing Tournament.

But the fact that it was caught on 6-pound test line makes it a line-class world record.

Catching a world-record fish never crossed Olivarez's mind, he said.

Olivarez concedes that the pending world record has altered his attitude. "I think that now I have the bug," he said. "There are some records out there that can be broken and I think I want to scale my tackle down a little and try it.

The previous world record was an 8-4 spadefish caught out of Oregon Inlet in July 2005.