Biggest yellowedge grouper-world record set by Heath Cataulin

[April 20] VIRGINIA BEACH, VA, USA--Heath Cataulin of Norfolk fishing aboard VBSF sponsor the Rudee Angler at the edge of the Norfolk Canyon with Captain Skip Feller caught a 46-pound, 2-ounces Yellowedge Grouper and set the new world record.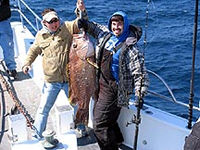 Photo: Heath Cataulin of Norfolk hauled in a 46 pounds, 2 ounces yellowedge grouper about 70 miles off the Virginia coast
(enlarge photo)

The fish was verified by an official marine biologist.

"At first, nobody knew exactly what it was," said Cataulin, 28, of Norfolk. "We knew it was a grouper, and it kind of looked like one of the snowies. But it didn't have the white spots on it."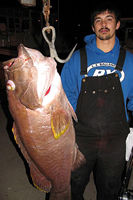 Heath was using a hand-tied two hook rig with Mustad circle hooks donned with squid on a Penn Baja reel and Ugly Stick rod combo. The fight took approximately 15 minutes.

(enlarge photo)

For Cataulin, the thought of catching a world-record fish of any species is foreign.

"I fish off the beach mostly," he said. "This was only the second time I've ever been offshore like that.

"It was huge," Cataulin said. "It wouldn't fit in anybody's cooler. We ended up putting it in the boat's big ice chest."

Cataulin: "And I'm pretty amazed at what I've done."

The previous world record was a 41-1 caught from the Gulf of Mexico in 1998.