Giant Fluke caught by Monica Oswald set world record
[Aug 26] Bradley Beach, N.J, US--Monica Oswald from Neptune City, N.J., caught a 24.3 pounds, 38.25 inches, world record Fluke.

Oswald reportedly caught the 38-inch fluke in 50 feet of water using a Spro bucktail with a stinger hook tipped with squid. She told she thought she was hooked on the bottom until her line started to move.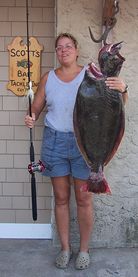 "I was really shocked," she said Sunday en route to another shift at Riverview Medical Center, Red Bank, where she has worked since 1990. "You never know what you're reeling up."

Photo:
Monica Oswald of Neptune with the 24.3-pound fluke on the scale

Scott Christensen weighed the fish at Scott's Bait and Tackle in Bradley Beach. He knew immediately this was a fluke for the ages.

"When Monica walked into the shop," Christensen recalled, "that fish was nearly sticking out both ends of her cooler." Christensen put the huge flatfish on the scale and turned to the lucky angler: "Looks like you have the world record here!" he announced.

In a telephone interview from the shop, Oswald, a nurse at Riverview Hospital in Red Bank, N.J., told she caught the huge flattie in 60 feet of water. The doormat swallowed a Glo-colored, 4-ounce Spro bucktail tipped with squid and a stinger hook. An Abu Garcia 7000 reel, 5 1/2-foot Lamiglas boat rod, and 65-pound test Power Pro line rounded out her gear.

When she first hooked the fluke, which measured 38 inches long, she said, it didn't move. So, thinking the jig was caught in the rocks, she backed up her boat to try to free it. No luck. She started reeling some more, and then felt it start to move.

"Little by little I was making my way," she said, but whatever was on the other end of the line was not coming to the surface quickly. In fact, she said, she got the fish up toward the surface, but it dove away.

"I knew it wasn't a striper or a bluefish," she said, "they go ZING and they're gone. I thought maybe it was a cow-nosed ray," which Oswald said she has caught before.

Finally, after about 20 minutes or so — "you don't look at your watch when you're fighting a fish," she said — she got the fish back up to the surface and with the assistance of her friend, Eric Neuier of Ocean Township, got it in the boat. "I thought, "Oh my God,' " she said.

Oswald's fluke asily beat the current world record -- a 22-pound, 7-ouncer caught off Montauk, N.Y. in 1975.

Oswald also holds the IGFA all-tackle world record for weakfish, thanks to an 18-pound, 1-ounce fish she caught last August. As you would imagine, Oswald's latest stroke of good luck has fostered all sorts of rumors about the validity of her catch, and the online fishing forums are buzzing about it.

New York Newsday reported earlier this week that Oswald stopped granting interviews about her catch on Sunday and that the potential record fluke was possibly ravaged by animals after Oswald left it in a cooler outside her home.

Her tremendous success has raised a few eyebrows, however, and concerns about this catch surfaced quickly as they often do when fishing records change hands. Photos of the fish show the gills clearly detached from the body. Oswald claims the separation occurred accidentally as she retrieved her bucktail by sliding her hand under the gill flap from the outside. Christensen added that the flesh appeared ripped, not sliced.

Also begging examination was significant scale loss above the tail. Handling of the fish caused this, Christensen said, and it's possible scales were lost as Oswald stood on the fish to calm it down.

Roy Christensen, who owns Scott's Bait & Tackle, said in his 63 years of living in Bradley Beach he had never witnessed anything like it. "I've never, ever seen a fluke that big," Christensen said. "They have been saying that this is the year that the fluke record could be broken, but whoever thought that the fish would be weighed in here at our shop.

"It really is unbelievable, especially with it being our 10-year anniversary here at the shop and all." "Like anybody else, it's being at the right place at the right time," Oswald said.