Thursday, February 16, 2012

Largest house made from recycled Euros: Frank Buckley sets world record (Video)

DUBLIN, Ireland--An unemployed Irish artist, Frank Buckley, has built a 'billion euro home' from the shredded remains of decommissioned banknotes in an an unused office space in Smithfield Square, Dublin; he used 1.4 billion euros ($1.82 billion) of useless notes to create an entire apartment which contains a living room, bedroom and bathroom — and the artist is currently working on adding a kitchen and hall , setting the world record for the Largest house made from recycled Euros, according to World Record Academy (worldrecordsacademy.org).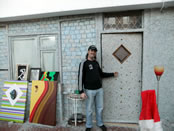 Photo: Artist Frank Buckley's house made from shredded euro worth EUR1.4.billion. It can be seen at the Glass House, Coke Lane, Smithfield, Dublin. All Photos courtesy of Melvin Brennan (enlarge photo)

The Guinness world record for the most plastic bottles recycled in eight hours weigh 8,799.9 kg (19,400.45 lb) and was achieved by Nestle Waters China Project WET in Shanghai, China.

Guinness World Records also recognized the world record for the most plastic bags recycled in 8 hours: 120,000, achieved by Consorzio SEA (Italy) in Fossano, Italy.

Each feature is constructed through 'bricks' made purely of compressed former currency, and as the artist notes, 'it's just paper'.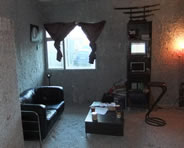 (enlarge photos)

Frank Buckley built the apartment in the lobby of an abandoned Dublin office building, left vacant since its completion in the Irish construction boom. It remains as a sad reminder of what the euro crisis has left in its wake.

"It can't be a hold on everything. It's ruining people." He said of the currency.
"It's a reflection of the whole madness that gripped us," Buckley indicated.

"People were pouring billions into buildings now worth nothing. I wanted to create something from nothing."

Mixed-media artworks line the walls, and coins decorate the apartment further — made from Irish 5 pence pieces — perhaps a poignant reminder of what the country once enjoyed. However, at the least, this unemployed artist doesn't go cold at night.

"Whatever you say about the euro, it's a great insulator."

Related world records:
Most plastic bottles collected: Florida students

Largest chain of aluminium cans: world record set in De Pere (Video)

Longest bridge made from plastic bottles

Largest military aircraft cemetery: 'The Boneyard'

First compostable bathing suit: designer Linda Loudermilk

Longest string of bottle caps: Seaview School students

Thursday, February 16, 2012