Largest Peasant Omelette-world record set by Master Chef Stefan Bercea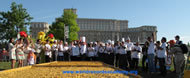 BUCHAREST, Romania -- Master Chef Stefan Bercea and his team of 19 Chefs made an omelette that weighed 3.75 tonnes (8,267 lb) and has 223,02 square feet (20,72 square meters)-setting the world record for the Largest Peasant Omelette during the 3rd edition of the "Selgros International Open Air Cooking Championship" in Bucharest. (enlarge photo)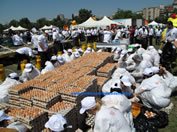 The World's Largest Peasant Omelette was made of 30,000 eggs, 1.5 tons of potatoes, 300 kilos of vegetables, 400 kilos of bacon, 400 kilos of cheese, 200 liters of vegetable oil, 30 kilos of parsley, 15 kilos of salt and 3 kilos of pepper.

(enlarge photo)

The giant pan used to cook the Largest Peasant Omelette was lifted into position with a crane.

Master Chef Stefan Bercea and his team of 19 Chefs spent no less than four (long) hours stirring the Largest Peasant Omelette with giant wooden palettes.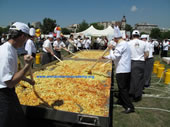 Photo: Chefs use wooden paddles to mix the world's largest peasant omelette during an international open air cooking contest in Bucharest.
(enlarge photo)

Once done, the giant omelette was enjoyed by everyone visiting the "Selgros International Open Air Cooking Championship" in Bucharest.

Zarnescu Constantin, Director of the "Selgros International Open Air Cooking Championship", says: "The Outdoor Cooking demo Championship is a challenge either for the specialists (culinary art masters, chefs) or to the amateurs (the ones attracted to the outdoor cooking).
The concept involves the movement of the traditional chef from his narrow and conservatory space and make hin a real star and for the one fond of cooking is a challenge for his/her imagination, giving the opportunity in a different way."

The world record was sponsored by Familia Toneli, Selgros Cash & Carry Romania, Asociatia Culturala Euro Est Alternativ, Valdo Invest, Untdelemn de la Bunica, Fuchs Condimente Romania and Cabana Vanatorilor-Predeal.

Related world records:
Largest cream tea scone-world record set by Anne Tattersall

Largest Dessert Buffet-world record set by the Emirates Culinary Guild

Tallest pancake stack-world record set by Sean McGinlay and Natalie King

Largest Easter Bread with Cheese ("Pasca")-world record set by Radauti city

Largest Bowl of Pasta-world record set by Wataniya Restaurants

Largest popcorn ball-world record set by the Noble Popcorn Factory

Largest Simultaneous Roast Meal-world record set by the East of England Agricultural Society

Most pancakes served-world record set by The Lubbock Lions Club

Biggest chocolate eclair-world record set by The Swallow Bakery

Longest sausage-world record set in Vinkovci

Biggest cheesecake-world record set by Mexico Chefs

Largest gyros (doner kebab)-world record set by Sami Eid

Biggest Kings' Cake (La Rosca de Reyes)-world record set by Mexican bakers

Largest ceviche-world record set by Peruvian chefs

Largest Jalebi-world record set in Meghalaya

Tuesday, May 12, 2009