Monday, August 6, 2012

Largest atlas: Big Aussie atlas sets world record (PICS)

LONDON, UK -- The 'Earth Platinum' atlas, published by Australian publishing company, Millennium House, weighs 150 kilograms, with each single page measuring 1.8 metres high and 1.4 metres wide, setting the new world record for the Largest atlas, according to the World Record Academy: www.worldrecordacademy.com/.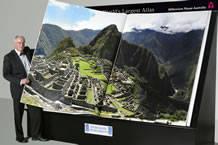 Photo: Weighing in at 200kg and standing 270cm, the Australian-produced Earth Platinum publication is the world's largest atlas. (enlarge photo)

The Guinness world record for the Most expnsive atlas was set by a version of Ptolemy's "Cosmographia," dating from 1477, which was sold for £2,136,000 (then $3,991,970) at Sotheby's, London, UK.

Guinness World Records also recognized the world record for the smallest printed book; it measures 0.9 x 0.9 mm and is an edition of 'Chameleon' by the Russian author Anton Chekhov. The book was made and published by Anatoliy Konenko, of Omsk, Siberia, Russia.

The World's Largest Atlas was unveiled at the British Library in London.

It consists of 61 pages of maps and measures 6ft x 9ft (1.8m x 2.7m) and weighs 200 kg. It required six members of the library to carry its weight through the doors to join the Library's map collection.

The maps for this Atlas are produced by using satellite images and some other photographic technique which brings thousands of photographs into one whole image.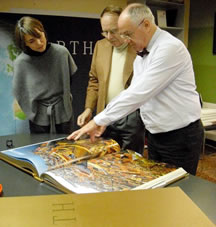 (enlarge photo)

The Earth Platinum has beaten another one present at the British Library, known as Klencke atlas. Earth Platinum has outsized Klencke atlas by 30 cm on each side.

Peter Barber OBE, head of Cartography and Topography at the British Library and writer of the introduction of the Earth Platinum says, "The Library's collection of maps is one of the greatest in the world, and the maps are important not only for their use as geographical aids, but also as mirrors of the cultures in which they were created"

And he further adds on the importance of an atlas like Earth Platinum, "while the Klencke Atlas provides an insight into the world of British monarchs in the seventeenth century, and what they thought was important about it, the Earth Platinum will offer a reflection of what people of 2012 felt was worth recording about their very different world. It will be an astonishing resource for researchers in ten, twenty or two hundred years of time."

Related world records:
Longest Outdoor Bookcase: Ikea

Largest Interactive Whiteboard: Osnes Nordic Group

Longest modular kayak: LL Bean sets world record (VIDEO)

.

Largest Chess Piece: St. Louis sets world record (Video)

Largest Lego Santa Yoda: San Francisco (Video)

Largest wall calendar:Kharagpur students (Video)




Wednesday, August 8, 2012 4:44 PM