Thursday, April 15, 2010

Largest Dancing Lion - world record set by MGM Macau

MACAU, China -- MGM Macau manufactured for the Chinese New Year celebrations on 14 February 2010 "The Grand Lion", a dancing lion measuring 20ft 4in (6.2 m) long, 14 ft 3 in (4.36 m) wide - setting the new world record for the Largest Dancing Lion.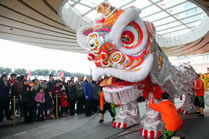 (enlarge photo)

It took close to 6 months to manufacture the world's Largest Lion which performed in traditional lion dance ceremony by 4 well-trained dancers on February 14, 2010, the first day of Chinese New Year, at MGM Macau.

Measuring 6.2m long, 4.36m tall and 2.1m wide, the Largest Lion in the world boasts a gigantic head weighing over 250 pounds and is approximately 20 times the normal size of the traditional dancing lion.

The world's Largest Lion will be displayed again from April 13 till 4 May, 2010 at Grande Praça where visitors can meet with the world's largest dancing lion face to face. Even on display, the specially designed lion will greet the audience with its moving head and blinking eyes.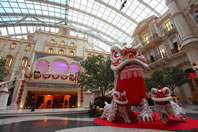 (enlarge photo)

To promote traditional lion dance and support Macau's cultural sports, MGM Macau will hold the "International Lion Dance Championship 2010" on May 1 at Grande Praça.
The competition is co-organized by MGM Macau and Wushu General Association of Macau with the support of Macau Government Tourist Office. 10 renowned lion dance troupes from Malaysia, Thailand, Vietnam, Singapore, Indonesia, Taiwan, Mainland China, Hong Kong and Macau will be showing their best for the thorn of champion.

The winning teams will perform from May 2 to 4 at Grande Praça.

Subscribe to our RSS News feed to receive updates.

Related world records:
Largest Spade - Bulldog Tools set world record

Largest Concrete Gnome - world record set by Iowa State University

Largest Ice Easter Egg - world record set by Russian sculptors

Longest doormat - world record set by Travancore Cocotuft Ltd

Thursday, April 15, 2010