Biggest mobile guitar-world record set by Dieter Senft
[April 14] STORKOW, Germany--German bicycle fanatic Dieter ĞDidiğ Senft has invented a 14.81 metres long and 4.21 metres high guitar, setting the world record for the Biggest mobile guitar.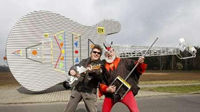 Photo: German guitarist 'Quaster' Dieter Hertrampf of former East German band 'Phudys' (L) and Didi Senft, a 56-year-old cycling fan better known as 'El Diablo', pose for the media in front of the so-called 'guitar bicycle' in Storkow, some 50 km (31 miles) south of the German capital Berlin, April 8, 2008. Didi made the giant 'guitar bicycle' in the shape of a guitar, which measures five metres (16.4 feet) high about 12 metres (39.3 feet) long. REUTERS/Fabrizio Bensch (enlarge photo)

Didi Senf, Guitar Bike Inventor: "I think it's the biggest rideable guitar in the universe. It's well over 14 metres long and is more than four metres tall, which means you can't ride it on public roads. But it will soon be put in front of my museum so tourists from around the world can come and take photos in front of it. Then you can see the difference in size between a person and a guitar."

Locals looked on with curiosity and a sense of amazement as Didi, dressed head-to-toe as the devil, rode the giant musical instrument over fields around the village.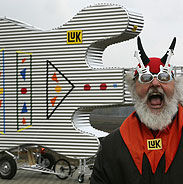 More than 300 metres of aluminium piping and more than 40 square metres of corrugated aluminium were used to build the giant four-wheeled guitar. This meant that as well as investing six months of his time on the creation, Senft also spent a great deal of money on the project, using only the best quality materials.
(enlarge photo)

"The strings on this guitar are probably worth more than Quaster's (an East German musician) whole guitar. They're made of stainless steel wires, which I decided to use here because the guitar is going to be kept outside," explained Senft.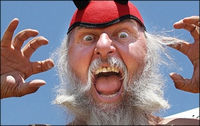 The giant bike took Didi Senft six months to build. And it's no mean feat to ride it, as it weighs half a tonne. But this isn't Senft's first wacky vehicle.
(enlarge photo)

He's become well-known in his native Germany for other creations like this bike to celebrate the football World Cup in 2006. And for Senft the only way to celebrate his latest invention: to rock to the sounds of a normal-sized guitar.