Monday, March 22, 2010

Most Advanced Horse-Drawn Carriage - world record set by Jeremy Dean

NEW YORK, USA -- New York–based artist Jeremy Dean has transformed an iconic Hummer into a Horsedrawn Carriage named "Back to the Futurama" - setting the new world record for the Most Advanced Horse-Drawn Carriage (and the Greenest Hummer, too).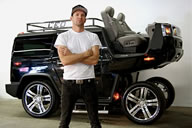 Photo: Jeremy Dean with his completed "Back to the Futurama". (enlarge photo)

Mr. Dean put down $15,000 of his own money for the sacrificed H2 and dubbed the result "Back to the Futurama," a play on both the Depression-era practice of hooking up cars to horses once gas became too expensive (known as "Hoover carts," a dig at Herbert Hoover) and GM's Futurama exhibit at the 1939 World's Fair.

"Back to the Futurama" is a protest against unsustainable lifestyle and a rolling reminder of what could happen when the oil runs out, or "a monument to America's consumption, greed and arrogance," he says on his blog.

"I am making my own satirical prediction of the future," he explains on the blog. "Unless we come up with alternative fuel sources and rethink our reliance on a hyper inflated consumption based economy; we may be left with no other options than to hook our cars up to a horse."

Mr. Dean's Hummer was inspired by "Hoover carts," named for Herbert Hoover, old car bodies once pulled by mules and horses in the rural south because their owners couldn't afford gasoline.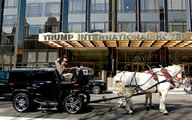 (enlarge photo)

Mr. Dean said he bought the Hummer in Orlando for $15,000 and worked with Slick's Garage in Palmetto, Fla., to modify it.

He removed the engine and turned the hood and grille upside down, then cleverly reinstalled them to form an elevated coachman's seat. Mr. Dean said the vehicle retains its chrome rims, navigation system and DVD player.

Mr. Dean said on his blog that he is interested in exploring "contemporary issues by deconstructing and recontextualizing iconic symbols to gain perspective and understanding about the world in which we live."

Subscribe to our RSS News feed to receive updates.
Related world records:
Most affordable SUV - Dacia Duster sets world record

Largest Alfa Romeo Parade - world record set by Allams Alfa Romeo

Highest speeding fine - Ferrari Testarossa driver sets world record

Most Expensive Motorcycle - world record set by House of Thunder

Monday, March 22, 2010