Tuesday, April 10, 2012

Largest tire: Michelin tire sets world record (PICS)

Bladenboro, NC., USA--At 14 feet, the Michelin tire that Reynold Hester ordered for his dealership in Bladensboro, measuring 59 in. x 80 in., radius 63 in, sets the world record for the Largest Tire, according to the World Record Academy: www.worldrecordacademy.com/.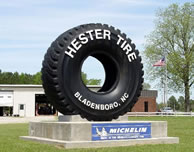 Photo: The World's Largest Tire by Michelin
(enlarge photo)

The 'News Observer' reported that " Just getting it to Bladen County took an 18-wheeler and a flatbed. Installing it required a 2-foot hole, 35 cubic yards of cement and a special permit."

"Drive into town today on N.C. 131 and the Michelin at Hester Tire stands three times higher than the 'Welcome to Bladenboro' sign."

The Guinness world record for the Tyre Flipping - Fastst 20 m was set by Israel Garrido Sanguinetti (Spain), who completed a 20-m (65.6-ft) course in a time of 56.3 sec Flipping a Michelin Radial Steel Cord X26.5R25 (XHA) tyre weighing 420 kg (925.9 lb).

Guinness World Records also recognized the world record for the oldest Michelin three star chef, set by Jiro Ono (Japan, b. 27 October 1925), owner and chef of sushi restaurant 'Sukiyabashi Jiro´ in Tokyo, Japan.

"This is a real tire. Not a fake," according to the owner of Hester Tire, understandably proud of the giant dump truck tire permanently mounted to advertise the business.

There's even a size stamped on the side: 59/80R63. You could fit a mattress inside the hole and live snugly.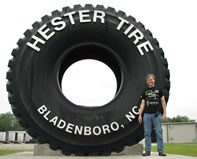 Photo: Reynold Hester stands next to the 14-foot tire he ordered for his dealership in Bladensboro. Photo: Josh Shaffer.
(enlarge photo)

The size is a 59 in. x 80 in., radius 63 in. Made by Michelin, it only fits the largest dump truck in the world.

Tire Size: 59/80R/63
Height: 14 ft
Width: 5.5 ft
Weight: 10, 400lbs
Manufacturer: Michelin
Machinery: Used on the 797B Caterpillar dump truck.

They're made to fit a Caterpillar dump truck so huge it takes a ladder to reach the driver's seat. New, they cost about $55,000 – roughly the price of a 2013 Porsche Boxter.

Hester Tire
Address: 13422 Hwy. 131 North, Bladenboro, NC

In 1963, Robert E. Hester, Sr. began his trucking business with one truck, driving and repairing it himself.
With ideas of growth and expansion, he leased tractors to major corporations and operated his own fleet, hauling dry and refrigerated freight and opening a maintenance shop to provide service and repair for his own trucks and those of local companies.

After graduation, his sons, Robert E. Hester, Jr. and E. Reynold Hester, joined Hester Trucking and continued to expand and develop the business into what it is today.

Hester Trucking and Tire Service, Inc. now specializes in passenger and commercial tire service. The full-service and repair shop is large and comprehensive enough for both passenger and commercial fleet services. Hester Trucking and Tire Service, Inc. also maintains and operates commercial trucks.

Related world records:
Fastest standard road tire: Continental Tire

Most Tire Flips in one hour using 555 lb tire: Greg Cochran

Most cars performing donuts simultaneously: 75 cars set world record

Longest car drift: Mauro Carlo

Longest motorbike: Colin Furze sets world record

Longest passenger jet: Boeing 747-8 (Video)

Biggest plane placed under water: Bulgarian ex-dictator's plane (Video)

Largest wheel on a motorcycle trike: Parker Brothers Choppers

Heaviest Limousine: The Midnight Rider

Longest Electric Bike: China

Largest Inflatable Airship: The Bullet 580

Largest passenger plane: Airbus A380

Most passengers carried by a cruise ship: Oasis of the Seas

Largest Farm Tractor: Big Bud Tractor

Greatest payload: Lockheed Martin C-5M Super Galaxy

Largest cruise ship: Oasis of the Seas

Longest motorbike: Colin Furze

Tuesday, April 10, 2012 8:58 AM