Largest number of crawler tractors -world record set by Otago Club

[March 17]TAPANUI, New Zealand--West Otago Vintage Club set a world record for the most self-laying track machines operating in one paddock: 503 machines.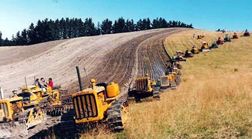 For vintage tractor enthusiast and convenor Charlie Davis it was like all his Christmases had come at once. "All along we said we wanted to see 700 machines, but that was so I could get my 500. "I'm really delighted," he said.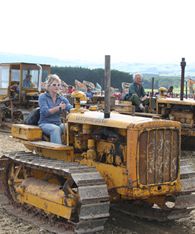 Mr Davis said the record, which had never been attempted before, had been a fitting way to celebrate the West Otago Vintage Club's 50th birthday. And what better way than recognising the role the humble crawler tractor played in shaping the agricultural landscape.

Photo:
DIANE BISHOP /
The Southland Times

While Internationals and Caterpillars were the most popular machines, there were also John Deeres, Cletracs, David Browns and even a 1921 Bates Steel Mule.

Each of the machines towed one harrow leaf for about 20 minutes around a stubble paddock under the watchful eye of three Justices of the Peace.

Related:
Most tractors in a parade-world record set by Marion residents

Largest area cultivated-world record set by Challenger tractor