Wednesday, December 9, 2009

Highest Cabinet Meeting - Nepal cabinet sets world record

MOUNT EVEREST, Nepal--With icy winds blowing on a sunny morning, 24 of Nepalís 27 ministers held a historic meeting at Kala Patthar, 17,192 ft above sea level-setting the world record for the Highest Cabinet Meeting.

The cabinet adopted a Mt. Everest Declaration, approved Prime Ministerís speech for the Copenhagen meet and announced setting up of Gaurishankar Conservation Area (spread across 2,000 square kilometres near Mt. Everest).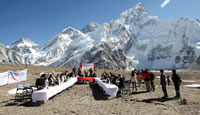 "The Everest declaration was a message to the world to minimize the negative impact of climate change on Mount Everest and other Himalayan mountains," Prime Minister Madhav Kumar Nepal told reporters.
(enlarge photo)

The Highest Cabinet Meeting at a Mt. Everest base camp is Nepalís symbolic attempt at attracting worldwide attention on the threat posed to Himalayan glaciers by global warming.

"Itís not a Nepali issue or the concern of countries in the Himalayan region alone. The impact of global change on the Himalayas would impact 1.3 billion people living in South Asia,Ē said Prime Minister Madhav Kumar Nepal.

Nepal's Forest Minister Deepak Bohra was inspired by the Maldives government to conceive the idea of the Qomolangma Highest Cabinet Meeting.
In October, the Maldives Cabinet held a meeting underwater to highlight the danger rising sea levels, attributed to global warming, posed to the Indian Ocean archipelago.

Nepal's cash-strapped government spent only 1 Nepali rupee though the expedition cost more than Rs 6 million ($81,080). The entire expense was borne by the private sector related to tourism.

The cabinet spent only 20 minutes next to the mountain on a clear, sunny day in an effort to prevent any of the ministers, unused to the heights of the Himalayas, from getting altitude sickness.

The ministers spent Thursday night in the town of Lukla at an altitude of 2,800 m to acclimatize to the higher elevation. They then traveled to Syangboche (3,900 m), from where they took the helicopters to the Highest Cabinet Meeting.
Related world records:
Most sky lanterns flown simultaneously - Indonesia sets world record

Fastest window cleaner-world record set by Terrry "Turbo" Burrows

Most Ganesha Idols Made in 99 days-world record set by Rama Shah

Smallest Tattoo of a painting-world record set by Wingnut

Oldest college graduate-world record set by Chao Mu-he

Longest career as a weather forecaster-Dave Devall sets world record

Wednesday, December 9, 2009