Sunday, August 30, 2009

Most Ganesha Idols Made in 99 days-world record set by Rama Shah

MUMBAI, India -- Rama Shah, 39, a staunch devotee of Lord Ganesha, made 9999 idols in 99 days-setting the world record for the Most Ganesha Idols Hand Made in 99 days.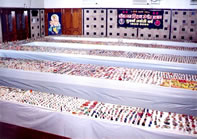 Photo: From Ganeshas in a pista shell to Ganeshas on swings, from Ganeshas on marble to Ganeshas on envelopes, Rama's skillful, nimble hands have moulded them all. Green, blue, yellow, orange, they are fruits of her labour. (enlarge photo)

Considering herself completely consumed in the art, Shah's devotion began after the Lord appeared in dreams in 2000.

Her interest in moulding, sculpting and colouring the idols saw Rama make 9,999 Ganesh idols in just 99 days in August 2000.

Rama's endeavour began after she felt that ''she should do something that no one has ever attempted before.''

The impetus came from a dream. ''One night I dreamt of Lord Ganesha. After the dream, I decided that I will try my hand at making Ganesh idols,'' says Rama. One idol led to another and soon Rama found that making these idols was an activity she enjoyed immensely.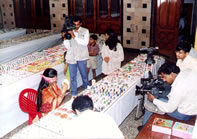 Photo: Not only does 39-year-old Rama Satish Shah make idols by the hundreds every day, she even makes them blindfolded!
(enlarge photo)

Initially, the going was tough and she managed to make just about 8-10 idols daily; but soon, Rama got the hang of things until finally, she could manage a mind-boggling 120 Ganesh idols in a day!

Insisting that her interest in these idols is not business-oriented, Rama reveals that she only decided to sell them after friends and acquaintances told her that the idols proved extremely lucky for them.

Priced from Rs 10 to Rs 9,000, the unbreakable, washable, handmade idols started attracting clientele. As orders began to pour in from all over the city, Rama began devoting more time to her hobby. In this, she was ably supported by husband Satish, who she says, ''supported her whole-heartedly.''

''Har ghar mein meri ek moorti rahein (every home should have at least one idol that I have made),'' is all that she hopes for.
Related world records:
Most Ganesha Idols Hand Made in 24 Hours - Rama Shah sets world record

Biggest hand written Bible-world record set by Sunil Joseph

Fastest writing of Bible-world record set by Christian group

Largest LEGO model of Noah's ark-world record set at Harvest Bible Chapel

Smallest Tattoo of a painting-world record set by Wingnut

Oldest college graduate-world record set by Chao Mu-he

Longest career as a weather forecaster-Dave Devall sets world record

Longest marriage for a living couple-world record set by Herbert and Zelmyra Fisher

Longest speech-world record set by Lluis Colet

Most popular Inauguration- Barack Obama inauguration sets world records

Largest Outdoor Tea Dance-world record set by Glasgow

Largest calligraphy lesson-world record set by Taipei



Sunday, August 30, 2009