Tuesday, June 16, 2009
Largest Bride Parade-world record set in Bucharest

BUCHAREST, Romania -- Around 100 brides sporting full bridal regalia took part in a parade in Bucharest, to promote the institution of marriage in Romanian society-setting a new world record category for the Largest Bride Parade.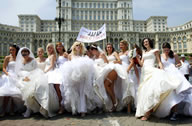 Photo: BucharestWomen in wedding gowns pose in front of the Parliament Palace, the largest administrative building in the world, during the "Bride Parade" in Bucharest./ Reuters (enlarge photo)

Organizers of the "Bride Parade" said they intend to promote marriage as a way of maintaining traditional family values in this Orthodox country.

The atmosphere was celebratory as dozens of women dressed in various white dresses, veils and tiaras marched to the sounds of trumpeters playing wedding songs.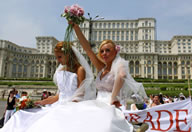 Photo: More than 100 Romanian brides participated in Bucharest's Bride Parade - a glamourous celebration of marriage and romance. The event gathered future and former brides under the slogan of, "Be a bride for one more day". / Reuters photos
(enlarge photo)

One woman called the event "unique" and one that "emphasizes the importance of the family in our society".

Similar events also take place in Russia.

Apparently the traditional marriage stance is not only valued among blushing brides and beauty queens.

Later this month, Romania's Parliament is set to vote on a law that would specify marriage is a union between a man and a woman, and refuse to recognize same-sex marriages or civil partnerships from other countries.

The Associated Press report, "Romania drafts legislation to outlaw gay marriage", quotes Daniel Buda, a deputy for the ruling Democratic Liberal Party: "The law was needed because Romania is a Christian country with "Christian morals." Some 85 percent of Romanians belong to the influential Orthodox Church."


Related world records:
Largest Vow Renewal sets world record in Bucharest

Largest Bikini Parade-Las Vegas sets world record

Largest gay parade in Sao Paolo sets world record

Largest Gathering of ABBA Impersonators-world record set by Betfair

Most people shaking hands in one place-world record set by Shanghai students

Largest gathering of people dressed as Waldo-world record set by Rutgers University

Largest gathering of wheelchair users on ice-world record set by PSI Network Leeds

Most people kissing at one time-world record set by Mexico City

Largest Gathering of Centenarians-world record set at Monroe fair

Largest Gathering Of Santa Clauses-world record set by Porto

Most number of Santas zip sliding-world record set by Hallam FM

Largest hokey pokey dance-world record set in Belmar

Most people doing the Thriller dance-world record set by Michael Jackson fans

Tuesday, June 16, 2009