Thursday, February 24, 2011

Longest Hockey Game: Dr. Brent Saik and friends sets world record (Video)


EDMONTON, Canada --Two teams, pulled from a group of 40 players (organizer Dr. Brent Saik), played hockey for 241 consecutive hours (more than 10 days) - setting the new world record for the Longest Hockey Game (Longest game of ice hockey) while raising funds for cancer treatment.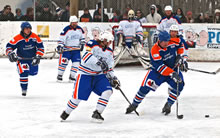 Photo: After playing for ten straight days, these hockey players will wrap up what's now known as the World's Longest Hockey Game. Photo courtesy: Rob Hislop (enlarge photo)

The previous Guinness world record for the longest game of ice hockey was 241 hr 21 min, set by Brent Saik and friends at Saiker's Acres, Strathcona, Alberta, Canada.

Guinness World Records also recognized the longest marathon playing street hockey: 105 hr 17 min, achieved in the fundraiser 'Hockey for Life' in Lethbridge, Alberta, Canada.

The players took to the ice in shifts of between four and seven hours with four hours of rest in between.

The first female ever to play in the game was playing pregnant. Jennelle Trenchuk had a baby on board. "I'm very early," said the fiancee of game inspiration and driving force Dr. Brent Saik. "Seven weeks."

The feat was gruelling, but most of the players knew what to expect because they have held similar long games three other times in the last decade.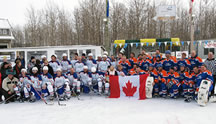 (enlarge photo)

"You get blisters and then when you have a blister you get a blister on top of a blister and then you get a frozen toe and it is just a mess," a weary sounding, but elated Saik said after the game wrapped up.

"This year, a lot of the guys were wile veterans and they have been through this many times so we know how to look after ourselves pretty good."

The goal was to raise $1-million for cancer treatment; specifically to fund the purchase of a new linear accelerator used in radiation treatment at the Cross Cancer Institute in Edmonton.

Linear accelerators are used in radiation therapy at the Cross Cancer Institute, which has ten, but one needs to be replaced every year.

"(It's) a really critical, fundamental piece of equipment for treating patients with cancer," said McEwan.

They had raised more than $870,000 as of Monday and Saik was confident the goal would be reached once everything was tallied.

To donate click World's Longest Hockey Game

Every player has been touched by cancer in some way. Saik, an optometrist, lost his father, Terry, to the disease in 1994 and his wife, Susan, in 2003.

Saik summed it up as he spoke to the crowd when it was over."The game never ends. We'll always be here. This event is going to keep going and we'll keep raising money, I promise."



Related world records:
Longest outdoor inline hockey game: Indian players
Largest Hockey Stick and Puck: Cowichan Valley
Longest outdoor inline hockey game: Indian players
Longest indoor hockey match: Havering Hockey Club
Largest Attendance at a Hockey Game: Michigan hockey fans

Thursday, February 24, 2011