Thursday, October 16, 2014

Most people treading grapes: Lucy fans broke Guinness World Records' record (VIDEO)

JAMESTOWN, N.Y, USA -- Anyone familiar with the classic sitcom "I Love Lucy" knows America's favorite redhead was famous for her antics when it came to breaking into show business; Lucille Ball's hometown of Jamestown was turned into a scene straight from the well-known grape-stomping episode after 1,232 stomped their way into history, breaking the Guinness World records' world record of 977 grape-stompers, according to the World Record Academy: www.worldrecordacademy.com/.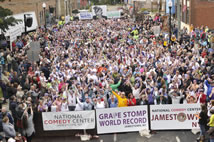 Photo: 1232 people stomped 60 tons of Concord grapes to set a World Record for the most people grape stomping blocks from the Lucy Desi Center for Comedy, in Jamestown, New York, on Saturday, October 11, 2014. Lucille Ball, who was born in Jamestown, New York, performed the now iconic grape stomping scene during an episode of I Love Lucy in 1956. (enlarge photo)

The Guinness World Records' record for themost people treading grapes is 977 and was achieved by ACOBASA (Spain), at an event organised by Leticia Alfaya Lozano (Spain) in Labastida, Álava, Spain on 25 September 2010.

Guinness World Records also recognized the world record for the Most juice extracted from grapes by treading in two minutes (team), set by Gabriel Jonker and Ryno van Zyl (both South Africa), who trod 50 kg (110 lb) of grapes in two minutes, resulting in 21.17 litres (37.25 pints) of juice being extracted at the WHOOSH festival, Worcester, Western Cape, South Africa on 6 March 2004.

Breaking the Guinness World Records' world record was no easy task. It took 60 tons of grapes, more than 1,000 Lucy fans getting their feet wet and braving the cold, but they said it was all worth it in the end, TWC News reported.

Related world records:
Most people cocktail flairing simultaneously: T.G.I. Friday's UK (Video)

Largest collection of wine labels: Alain Laliberte breaks Guinness world record

Most wine glasses held in one hand: Philip Osenton sets world record (VIDEO)

Most expensive wine: Kalimna Block 42 sets world record

Most bottles of wine uncorked simultaneously: Las Vegas chefs sets world record (Video)

Most expensive white wine: 1811 Château d'Yquem set world record (Video)

Most expensive bottle of Red Burgundy: Christie's

Oldest Winery: 6000-year-old winery

Largest wine flute: Ontario icewine makers

Most expenisve bottle of wine: Cheval Blanc 1947

Largest glass of wine: Lebanon