Tuesday, February 22, 2011

Largest tea bag: G4's 'Attack of the Show!' sets world record (Video)

LOS ANGELES, Calif., USA -- Kevin Pereira and Candace Bailey of G4's "Attack of the Show" unveilled a giant tea bag which stood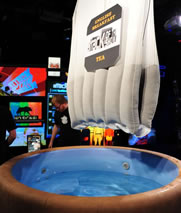 6 ft tall by 4 ft wide (1.83 m x 1.23 m) and weighed in at a hefty 151 pounds (68.49 kg) - setting the new world record for the Largest tea bag.

Photo: The World's Largest tea Bag weighed in at 151 pounds. Photo: G4 Media (enlarge photo)

The previous Guinness world record for the Largest tea bag was made by Lancashire Tea in Britain and weighed 132.2 pounds.

Guinness World Records also recognized the Largest collection of tea bag holders: Mimi Wilfong (USA) has a collection of 116 different tea bag holders.

According to Guinness World Records, the Largest tea dance world record was set by 306 couples who took part in a tea dance in George Square, Glasgow, Scotland, UK.

The new World's Largest Tea Bag was made of cheesecloth, with the empty bag alone weighing 2 lb (0.91 kg).

"We had several staff excursions last year where the entire staff pitched ideas for possible stunts and world records," said Pereira.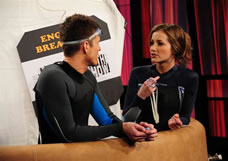 Photo: Kevin Pereira and Candace Bailey Set the Record for World's Largest T-Bag. (enlarge photo)

Staff members reported that the project took three weeks of planning in addition to several weeks of designing and building the bag, which proved to be a rather difficult task.

According to Guinness World Records, the Largest Tea Bag In The World had to be the correct proportions of a tea bag and be able to make tea once dipped in water.

"Getting the tea was easy," Pereira added. "Our art department guys were very smart and designed several vertical chambers within the bag so that it would keep its shape even when filled with 150 pounds of loose tea."


Subscribe to our free RSS News feed to receive updates, follow us on Facebook or Twitter.

Related world records:
Largest Online Collaborated Jigsaw: Lipton Yellow Label Tea

Longest tea run: Rebecca Wass

Largest tea party: Indore

Largest collection of tea caddies: Graham Brooks

Largest Outdoor Tea Dance: Glasgow

Largest cream tea scone: Anne Tattersall

Biggest scone: The Hallett family

Most cups of tea made in one hour: Olly Murs

Largest Teapot Monument: The Meitan Tea Museum

Largest Cup Of Tea: Sri Lanka

Largest Sweet Tea: Chick-fil-A

Largest cup of tea: Mercy Health System

Biggest tea cosy: BUPA care homes

Largest tea party: Indore

Tuesday, February 22, 2011