Largest tea party-world record set by Indore

[Feb 27]INDORE, India--Almost 40,000 people participated at the world's largest tea party that was organised by the Dainik Bhaskar daily.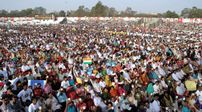 Photo: People gather for a tea party at a stadium in Indore.
(enlarge photo)
More than 32,000 people sipped their way into a new world record as India hosted the world's largest tea party in Indore. REUTERS/Handout

"The tea party is an attempt to break the world record of having the largest tea party in the world. The idea is that the whole town should come together and not only make a world record, but also by doing so, realise what all they can do if they come together," said Aniel Mahajan, the head of Dainik Bhaskar, Madhya Pradesh.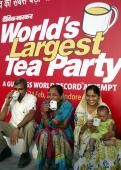 For making the 'Largest Tea Party' a success, almost 980 volunteers made 5000 litres of tea with 2500 litres of milk and water. About 250 kilograms of tea dust and sugar was used in making the tea.

After the participants were treated to Bollywood hit numbers sung by popular singers, volunteers started serving tea to the guests in designer cups. These cups were later given as gifts to the participants as souvenirs. City residents who couldn't attend the event got to see it on local TV channels.

The fund-raising event was organised to support a participatory movement, where citizens will take up plans, resources and implementation.

The event, organised by the Hindi newspaper Dainik Bhaskar, also raised funds to the tune of Rs 5 crore for city development.

Indore mayor Umashashi Sharma and Ramesh Chandra Agarwal of the Dainik Bhaskar group received a certificate for the record amid an impressive show of fireworks and festivities.

The Tea Board was the co-sponsor for the event along with Hindustan Unilever Ltd, which makes consumer goods.

The previous record had 14778 participants in Japan on October 8, 2006.