Thursday, May 17, 2012

Tallest lego tower: South Korea sets world record (PICS & Videos)

SEOUL, South Korea -- South Korea decided to celebrate LEGO Corporation's 80th birthday by erecting a 105 ft. high "skyscraper" in front of Seoul's Olympic Stadium; it was created from over 500,000 bricks and sets the new world record for the Tallest Lego Tower, according to the World Record Academy: www.worldrecordacademy.com/.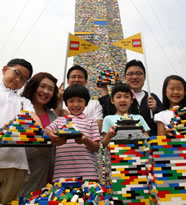 (enlarge photo)

The Guinness world record for the tallest structure built with interlocking plastic bricks [Lego] was 30.52 m (100 ft, 1 in) high and was constructed by the Stichting Limmen Ludiek (Netherlands) foundation on in Limmen, Netherlands.

Guinness World Records also recognized the world record for the largest collection of complete LEGO® sets in a private collection is 1,091 and belongs to Kyle Ugone (USA) in Yuma, Arizona, USA.

It took 4,000 children and five days to construct this 105 ft. high building in Seoul, South Korea.

Over 500,000 bricks were used in the making of the tower, which was constructed in front of Seoul's Olympic Stadium.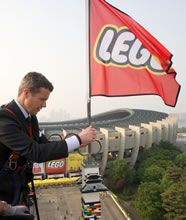 Photo: Danish Crown Prince Frederik laid the topping brick when the structure was revealed on Sunday, appropriately (LEGO was founded in Denmark).
(enlarge photo)

The colorful tower drew a large crowd, with 30,000 people present at its unveiling.

Related world records:
Lego world records

Thursday, May 17, 2012 5:16 PM