Friday, October 23, 2009

Longest tea run-world record set by Rebecca Wass

John O'Groats, UK -- Twix Tea Lady, 28-year-old Rebecca Wass, from Norwich, cycled 934 miles on her four week journey during the Twix Tea Tour, part of a Share a cuppa with Twix promotion-setting the world record for the Longest tea run.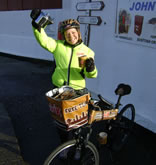 Photo: Rebecca Wass cycled nearly 1,000 miles from Land's End to John O'Groats - and gave out 8,000 cuppas and chocolate biscuits on the way. (enlarge photo)

Her mission was to share a brew with as many people as possible, and included tea dates with glamour model Melinda Messenger, Welsh rugby star Jamie Roberts and the current Miss Scotland.

When she got back Rebecca, who was on free social network site Twitter to keep everyone updated on her progress, tweeted: "I still can't believe it's all over, it went so quickly. But it was amazing and we raised a lot of money for charity, which is great!"

"It's been such an amazing journey, in so many ways. Thank you guys for all your support and words of kindness!.....Thanks so much to Twix and Brando for their support. Its been an amazing journey and record breaking too!!"

Her month-long trip raised £7,000 for Have a Heart and Help a South Wales Child charities.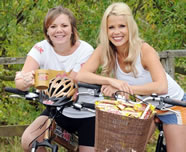 Photo:
Melinda Messenger (right) and Britain's ultimate tea lady, Rebecca Wass
(enlarge photo)

Twix spokesman Samuel Fielding said: "We gave Rebecca a huge challenge to share Twix and cuppa with the nation and she did not disappoint. We've been bowled over by her determination and positivity during the tour and are really proud of her achievement."

The Twix Tea Tour, part of a Share a cuppa with Twix promotion, was launched by TV presenter and former glamour model Melinda Messenger and Rebecca, a former youth worker, beat hundreds of wannabe tea ladies to win the chance to undertake the task of travelling across the country by bicycle and giving out free tea and biscuits.

What makes the feat all the more special for the 28-year old is that she was also recently diagnosed with the painful muscular disease Fibromyalgia and was recovering from a bout of illness when she embarked on the trek.

Miss Wass lives in Crome Road, near Mousehold. Her sister, Helen Read, teaches at Thorpe St Andrews High School, while her parents Linda and Alan live in Hassingham.

Related world records:
Fastest cyclist to circle the globe-world record set by James Bowthorpe

Longest solar-powered flight by paramotor-the Cardozo family sets world record

Longest rickshaw ride-world record set by Simon Etkind and Lianna Hulbert

Longest unsupported Arctic journey-Emirates NBD Greenland Quest sets world record

Bicycling across Canada-world record set by Cornel Dobrin

Youngest to sail solo around world-Zac Sunderland sets world record

Longest Distance Skated on the Road-Abhishek Navale sets world record

Greatest Distance on Motorcycle in 24 Hours-world record set by Omar Al Mamari

Fastest transcontinental flight in a LSA-world record set by Matt Hansen and Jessica Scharle

Friday, October 23, 2009