Oldest Woman-world record set by Maria Olivia da Silva

Oldest person-world record set by Gertrude Baines

LOS ANGELES, CA, USA -- Gertrude Baines, a 114-year-old California resident who resides in a Los Angeles nursing home sets the world record for the Oldest person.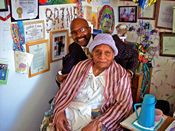 Photo: Gertrude Baines- born to former slaves in a small town south of Atlanta, Georgia in 1894 -- now lives in a Los Angeles nursing home.
(enlarge photo)

The previous oldest woman was Maria de Jesus, who died this week in Portugal at age 115.

Gertrude Baines told the Times she spends most of her time "doing nothing but eating and sleeping." When CNN interviewed Baines two years ago, she was asked to explain why she thought she has lived so long. "God. Ask him. I took good care of myself, the way he wanted me to," Baines said.

Much of her long life was lived in Ohio where she worked as a "house mom" at a state university. She eventually divorced and traveled to Los Angeles, where she retired.
Born in Shellman, Georgia, she recalls that her first memory was that of being in a car ride to Canada. She later married Sam Conly at a "very young age" and had a daughter, Annabelle, who died of typhoid fever at age 18.
Baines currently lives at the Western Convalescent Home in Jefferson Park, Los Angeles. She lived on her own until she was 105.

Dr. Stephen Coles of the University of California, Los Angeles, Gerontology Research Group said: "She's very healthy. Her only complaint, as far as I can tell, is arthritis in her left knee," he said. She uses a wheelchair. He described her as mentally sharp. "She doesn't forget anything," he said.

There are now only 82 women and nine men verified through birth certificates or other records as being 110 or older, said Coles of the UCLA volunteer research group that tracks supercentenarians.

However, there could be hundreds more - undocumented - in China, India, Africa and elsewhere, he said.

Coles said the supercentenarians appear to share one trait that might account for their longevity: They come from families whose members are long-lived.

"Whether they drink alcohol or not, it doesn't matter. Whether they smoke cigarettes or not doesn't seem to matter," he said. "The thing that does seem to matter is that they `chose' their parents wisely. It's in the genes. It's in the DNA."

Related world records:

Oldest living man with Down syndrome-world record set by Bert Holbrook

.

Longest dreadlocks-world record set by Asha Mandela

Most Fingers and Toes-world record set by Haramb Ashok Kumthekar

Oldest Mother-world record set by Omkari Panwar

Most weight lost-world record set by Manuel Uribe

Oldest person-world record set by Edna Parker

Longest ice immersion -world record set by Wim Hof

Fastest Human Calculator-world record set by Alexis Lemaire

Strongest Ear-world record set by Lasha Pataraia

Most powerful Human Magnet-world record set by Aurel Raileanu

Smallest waist-world record set by Cathie Jung
Tallest person in the world is Ukrainian Leonid Stadnik

Saturday, January 3, 2009