Longest ice immersion -world record set by Wim Hof

[Jan 28]NEW YORK, USA--A man who calls himself a tantric master broke his own world record by standing engulfed in 1,550 lbs. of ice for 72 minutes.

Wim Hof, 48, stood on a Manhattan street in a clear container filled with ice for an hour and 12 minutes Saturday.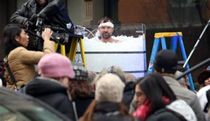 Photo: In this photo provided by Rubin Museum of Art, Wim Hof, of the Netherlands, stands up to his neck in ice for an hour and twelve minutes, Saturday, Jan. 26, 2008, outside the Rubin Museum of Art in New York, during a successful attempt to break his previous world record for immersion in an outdoor ice bath.
(enlarge photo)
Known as "The Iceman," Mr. Hof controls his body temperature by the tantric practice of tumo and is the only non-Tibetan in the world to have mastered this art. (AP Photo/Rubin Museum of Art, Diane Bondareff )

Hof said he survives by controlling his body temperature through tantric meditation. Tantra is an Eastern tradition of ritual and meditation said to bring followers closer to their chosen deities.

Hof set the world record for full body ice contact endurance in 2004, when he immersed himself in ice for an hour and eight minutes.

He says he owns six recognized world records for a variety of extreme feats, including the fastest barefoot half-marathon in history (2 hours, 16 minutes) and the longest swim while holding one's breath under ice (188 feet, 6 inches).

Wim is a 48-year-old married father of five, who makes his living as a nature guide.

Hof's feat kicked off BRAINWAVE, a five-month series of events in New York exploring how art, music, and meditation affect the brain.

Presenting more than 100 events in New York City through June 2008, the BRAINWAVE series is the brainchild of six non-profit organizations: Rubin Museum of Art, Exit Art, Graduate Center of the City University of New York (CUNY), The Philoctetes Center for the Multidisciplinary Study of Imagination, and the School of Visual Arts (SVA) in association with the American Museum of Natural History.


[ Submit a world record ] [ World Record Certificate]
[ Book of World Records ] [ World Records Store ] [ Club ]



Fastest Jump Shooter in Billiards-Rocky Lane


Largest miniature railroad-Miniatur Wunderland


Fastest race around the 'World'-Rohan Veal

Most 10 scores at Olympics-Nadia Comaneci

Fastest board breaking-record set by Mitch Ellis