Saturday, June 20, 2009


Oldest Living Man-world record set by Henry Allingham

LONDON, UK -- British World War I veteran Henry Allingham celebrated his 113th birthday June 6 and has become the the world's oldest living man after the previous holder of the title, Tomoji Tanabe, died in his sleep in southern Japan earlier Friday at the age of 113.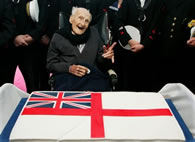 Photo: The Royal Navy hosted a birthday party on the HMS President in London for his family, close friends and members of the Royal Navy and Royal Air Force earlier this month. / AFP (enlarge photo)

Proving age had not dimmed his sense of humour, he once put his longevity down to "cigarettes, whisky and wild, wild women".

Allingham joined the Royal Naval Air Service — precursor to the Royal Air Force — in 1915, and a year later took part in the Battle of Jutland, the war's largest naval battle. During World War II he worked on measures to counter magnetic mines.

Mr Allingham had a happy marriage. He and his wife Dorothy were together for more than 50 years, heading a family that now includes his first great-great-great-grandchild.

Most of his family now live in the United States but his nephew Ronald Cator, 74, lives in Acle, Norfolk Mr Cator said: "It's fantastic news. He is very frail now but I'm sure he'll be very pleased to hear it. "We are very proud of him."

"It's staggering. He (Allingham) is philosophical. He will take it in his stride, like he does everything else," said Allingham's spokesman, Dennis Goodwin.

"He withdraws in himself and he chews it over like he does all the things he has done in his life. That's his secret I think".

Allingham has lived in three different centuries, seen six British monarchs on the throne, and has five grandchildren, 12 great-grandchildren, 14 great-great grandchildren and one great-great-great grandchild.

An air force mechanic, he saw active service in the Battle of Jutland in World War I and was one of the founding members of the Royal Air Force. He is one of only two surviving veterans in Britain of the 1914-18 conflict.

"War's stupid," he told the BBC. "Nobody wins. You might as well talk first, you have to talk last anyway."

After the war he went into the motor industry, eventually joining the design department at Ford before retiring in 1961.

Events he has lived through include the death of Queen Victoria in 1901, the sinking of the Titanic in 1912, the invention of television by John Logie Baird in the 1920s and the Wall Street crash of 1929.

In 1911, when he was a teenage apprentice, there were an estimated 100 centenarians in Britain. In 2006, there were 8,970.

The world record falls in an eventful year for Henry, who lives at St Dunstan's care home in Ovingdean, near Brighton. St Dunstan's chief Robert Leader said: "We are proud to care for this remarkable man."

In March, he was awarded France's Legion d'Honneur award -- and voiced hope for the end of military conflict. "There will be no more wars, I hope. There will be one big nation," he said. "It's a tragedy you can never forget."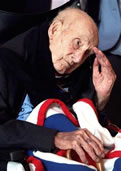 Photo: British World War One veteran Henry Allingham aged 112 salutes as he listens to a speech at his ceremony, where he received the Legion of Honour medal by Ambassador Maurice Gourdault-Montagne at the French embassy in London/ REUTERS/ Katie Collins/Pool
(enlarge photo)

He received a doctorate in engineering from Southampton Solent University and was made an honorary freeman of Brighton and Hove.

Allingham, who lives in a care home for blind former armed services staff near Brighton, on the southern English coast, is one of three surviving Britons from World War I. Another, Harry Patch, was also awarded the Legion d'Honneur in March.
He celebrated his 111th birthday on Wednesday. The other survivor, 107-year-old Claude Choules, now lives in Australia.

Tomoji Tanabe, the previous world's oldest man, died in his sleep from heart failure at his home in southern Japan. He had eight children - five sons and three daughters.
Mr Tanabe was certified by the Guinness Book of World Records as the world's oldest man when he was 111 years old.

When asked how he had lived so long, Mr Allingham, who holds the Légion d'Honneur, said: "I don't know if there is a secret, but keeping within your capacity is vital. I've had two major breakdowns, one during the war and one after but both when I was trying to do the work of three men. "The trick is to look after yourself and always know your limitations."

Allingham joined activities involving other war veterans after he met Dennis Goodwin, an independent inspector for residential care homes who organized trips for veterans who wanted to return to the continent where they had fought.

Goodwin encouraged Allingham to share his experiences. He soon became one of the nation's most outspoken veterans and has long encouraged everyone to remember the sacrifices of those who died.

He co-wrote an autobiography with Goodwin, "Kitchener's Last Volunteer," — a reference to Britain's war secretary who rallied men to the cause — and was made an Officer of France's Legion of Honor.

The world's oldest known person is 115-year-old Maria Olivia da Silva who livest in Astorga, Brazil and celebrated her 129th birthday in February.


Related world records:
Oldest Woman-world record set by Maria Olivia da Silva

Tallest Man-world record set by Leonid Stadnyk

Most prolific surrogate mother-world record set by Carole Horlock

Oldest person-world record set by Gertrude Baines

Oldest living man with Down syndrome-world record set by Bert Holbrook

.

Longest dreadlocks-world record set by Asha Mandela

Most Fingers and Toes-world record set by Haramb Ashok Kumthekar

Oldest Mother- Omkari Panwar

Most weight lost-world record set by Manuel Uribe

Oldest person-world record set by Edna Parker

Strongest Ear-world record set by Lasha Pataraia

Most powerful Human Magnet-world record set by Aurel Raileanu

Smallest waist-world record set by Cathie Jung

Tallest person in the world is Ukrainian Leonid Stadnik

Saturday, June 20, 2009