Tuesday, July 21, 2009

Largest Lamington-world record set in Ipswich

IPSWICH, Australia -- Celebrating world National Lamington Day, Ipswich locals have built a 1320kg lamington (a famous chocolate and coconut-covered cake)-setting the world record for the Largest Lamington.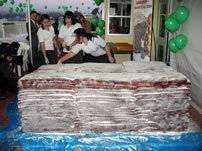 Photo: Bakers have been cooking for two days to produce the 1.5 metre high cake using 200 litres of egg, 535 kilograms of sponge mix, 75 kilograms of jam and 68 kilos of desiccated coconut. / Photo by ABC Local Radio: Rebecca Levingston (enlarge photo)

Ipswich councillor Paul Tully says: "It's a pretty big lamington, about ... half the size of a small family sedan," he said. "There'll be the equivalent of 20,000 small lamingtons, it's a pretty big lamington in anyone's book."

President of the Queensland Law Society, solicitor Ian Berry, oversaw the weigh-in and will sign the documents to attest to the lamington's size and weight.
"On behalf of Lord Lamington, I officially declare Ipswich the home of the world's largest lamington," Ipswich Mayor Paul Pisasale declared.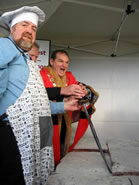 The giant lamington was cut in the presence of Lord Lamington's great grandson Alex Scrimgeour and great granddaughter Belinda Leigh, both visiting Australia.

Photo: Ipswich Mayor Paul Pisasale (right) and councillor Paul Tully prepare to slice a giant lamington / ABC News: Rebecca Levingston (enlarge photo)

The Australia's famous cake is said to be created after a maidservant to Lord Lamington at Government House in Brisbane accidentally dropped the governor's favourite sponge cake into some melted chocolate.
Not one to waste food, Lord Lamington suggested the chocolate-covered sponge be rolled in coconut to avoid messy fingers and the lamington was born.

The previous world record for the largest Lamington was set in Melbourne in 2005 with a one tonne lamington.

It took more than three days to bake about 90 giant slabs of sponge cake to make up the 1.3 tonne lamington.

The giant lamington will be distributed - in small pieces - to council and road workers. John Grant has loaned the Mayor two utes to carry the giant cake to homeless shelters and to workmen on the Ipswich Motorway.

Related world records:
Largest Green Chile Cheeseburger-world record set by Peppers Cafe

Largest Cupcake-world record set by Cakes.com

Largest Kunafa pastry-Muhanned al-Rabbe sets world record

Largest Canned Food Structure-world record set in Wellington

Longest BLT sandwich-Bradley County Chamber of Commerce sets world record

Largest slab of chocolate fudge-Lansing Community College sets world record

Largest jambalaya-world record set by Jambalaya Festival

Largest lobster roll-world record set by Portland

Largest Peasant Omelette-world record set by Master Chef Stefan Bercea

Largest cream tea scone-world record set by Anne Tattersall

Tuesday, July 21, 2009