Fastest crossing of Cook Strait-world record set by Sealegs

[April 16] WELLINGTON, New Zealand--Sealegs International Ltd has set a new World Record for the fastest crossing of Cook Strait in New Zealand by an amphibious craft.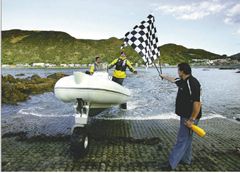 Photo: Sealegs CEO David McKee Wright and Brendon Hodge-centre- come ashore at Owhiro Bay after successfully completing the Cook Strait crossing
(enlarge photo)
Sealegs set the record by crossing the notorious 40km stretch of water in just 47 minutes, by driving a 6.1m Sealegs amphibious craft fitted with an Evinrude 200hp E-Tec outboard motor.

Sealegs chief executive David McKee Wright said the trip -the first recorded by an amphibious vehicle-was a "dream crossing" and he was keen to "celebrate with a cold one". "We got to about 50knots [93kmh] there, we were really flying."

The vehicle, which left Arapawa Island in the Marlborough Sounds, was supported by a Coastguard boat.

Shareholder Brendon Hodge: "I'm absolutely stoked. It was great to see the boat working in action. It gives me a helluva lot of confidence in the product."

Sealegs spokesman Greg Ewen said this success increased the product's "credibility". "It demonstrates the product's capability and increases the public profile. It endorses the fact that we're got a product that's more than capable."
The inflatable craft also has wheels so it can be driven on the beach. The revolutionary amphibious boats which are designed and manufactured in New Zealand, have the capability to seamlessly enter and exit the water at the push of a button and have already proved popular with waterfront property owners, emergency services and people with restricted mobility.

Sealegs chief executive David McKee Wright: " Sealegs boats are not just an innovative idea. They are a serious piece of equipment, with signifiant boating abilities-both on the water and off".

In 2007 Sealegs set a world record for the fastest water speed in an amphibious vehicle on Sydney Harbour, and in 2005 it smashed a record previously held by Sir Richard Branson for the fastest English Channel crossing in an amphibious vehicle.

Related:
Fastest Amphibious Vehicle-world record set by Sealegs