Worst nuclear plant accident: world record set by Chernobyl

[April 26] CHERNOBYL, Ukraine--The "Chernobyl disaster", reactor accident at the Chernobyl nuclear power plant, or simply "Chernobyl", sets the world record for worst nuclear power plant accident in history and the only instance so far of level 7 on the International Nuclear Event Scale, resulting in a severe nuclear meltdown.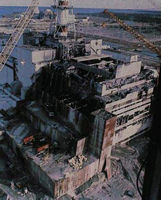 On April 26, 1986 at 1:23:40 a.m., reactor 4 suffered a catastrophic steam explosion resulting in a nuclear meltdown, a series of additional explosions and a fire; the radiation was not contained and radioactive particles were carried by wind across international borders.
(enlarge photo)

The Chernobyl disaster occurred as the result of an unauthorized test being conducted, in which the reactor was run while its cooling system was inoperative. The resulting clouds of radioactive isotopes spread all over Europe, from Ireland to Greece.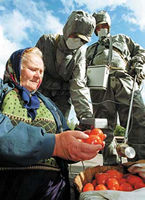 A total of 9 tonnes/8.9 tons of radioactive material were released into the atmosphere, 90 times the amount produced by the Hiroshima A-bomb.

Photo: Belarusian soldiers checking for radiation in tomatoes brought from Ukraine, near the Chernobyl nuclear power station. AFP/Corbis
(enlarge photo)

In all, 5 million people are thought to have been exposed to radioactivity following the blast. In Ukraine, Belarus, and Russia more than 500,000 people were displaced from affected towns and villages and thousands of square miles of land were contaminated.

The Chernobyl power station was situated at the settlement of Pryp'yat, 10 miles (16 km) northwest of the city of Chernobyl (Ukrainian: Chornobyl) and 65 miles (104 km) north of Kiev, Ukraine. The station consisted of four reactors, each capable of producing 1,000 megawatts of electric power; it had come on-line in 1977–83.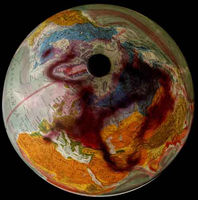 Photo: Red indicates the extent of the radiation cloud on April 27, just after the accident in Chernobyl. Blue, indicates its almost worldwide distribution until the 6th of May. (enlarge photo)

The 2005 report prepared by the Chernobyl Forum, led by the International Atomic Energy Agency (IAEA) and World Health Organization (WHO), attributed 56 direct deaths (47 accident workers, and nine children with thyroid cancer), and estimated that there may be 4,000 extra deaths due to cancer among the approximately 600,000 most highly exposed and 5,000 among the 6 million living nearby.

The Chernobyl reactor is now enclosed in a large concrete shelter which was built quickly to allow continuing operation of the other reactors at the plant. However, the structure is not strong or durable.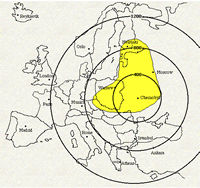 Radioactive material from the Chernobyl reactors is expected to last for 100,000 years, and the long-term costs in human life and health are still unknown.
(enlarge photo)

Some major work on the shelter was carried out in 1998 and 1999. Some 200 tonnes of highly radioactive material remains deep within it, and this poses an environmental hazard until it is better contained.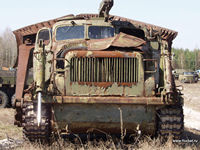 A New Safe Confinement structure will be built by the end of 2011, and then will be put into place on rails. It is to be a metal arch 105 meters high and spanning 257 metres, to cover both unit 4 and the hastily-built 1986 structure.
(enlarge photo)

The Chernobyl Shelter Fund, set up in 1997, has received EUR 810 million from international donors and projects to cover this project and previous work. It and the Nuclear Safety Account, also applied to Chernobyl decommissioning, are managed by the European Bank for Reconstruction and Development (EBRD).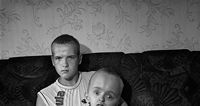 This photo, taken by Knoth in Minsk, Belarus: Twin brothers Michael and Vladimir Iariga, 16 years old. Michael, with hydrocephalus, is five minutes older than Vladimir, who is deaf.
(enlarge photo)

As of 2006, some fuel at units 1 to 3 remained in the reactors, most is in each unit's cooling pond, and some in a small interim spent fuel storage facility pond (ISF-1).

In January 2008 the Ukraine government announced a 4-stage decommissioning plan which incorporates the above waste activities and progresses towards a cleared site.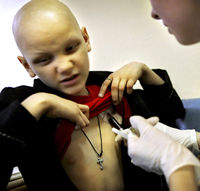 The Shelter Implementation Plan calls for transforming the site into an ecologically safe condition through stabilization of the sarcophagus, followed by construction of a New Safe Confinement (NSC). While original cost estimate for the SIP was US$768 million, the 2006 estimate is $1.2 billion.
(enlarge photo)

The SIP is being managed by a consortium of Bechtel, Battelle, and Electricité de France, and conceptual design for the NSC consists of a movable arch, constructed away from the shelter to avoid high radiation, to be slid over the sarcophagus.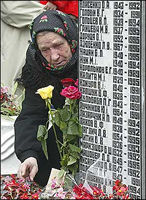 The NSC is expected to be completed in 2012, and will be the largest movable structure ever built.

This week marks the 22nd anniversary of the Chernobyl nuclear accident—the worst nuclear accident in history—which affected millions of people, contaminated huge tracts of farmland, cost hundreds of billions of dollars to clean up and mitigate, and redefined the international debate over the safety of nuclear energy.
(enlarge photo)


Greenpeace video on Chernobyl

Chernobyl 2006 video