Largest Gantry Crane-Taisun sets world record

[May 5] YANTAI, China--The world's largest fixed dual-beam gantry crane was recently launched in a shipyard in the port city of Yantai in the northeastern province of Shandong, China.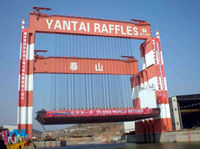 Photo: Taisun hoisting up a launching barge weighing 20,133MT, a heavy lift world record (enlarge photo)

The 22,000-ton lifting capacity gantry was named after the province's famous sacred mountain Taisun.

The lifting equipment, owned by Yantai Raffles Shipyard Ltd., was certified by the American Bureau of Shipping for lifting a 22,146-ton launch barge last Saturday, setting a new heavy lift world record.

Taisun is expected to cut two million working hours spent on handling and lifting activities as well as improve safety and quality of work on large offshore projects.

The mega gantry is commissioned to work on at least nine lifts in the next 24 months involving the construction of semi-submersible rigs and specialized seafaring vessels.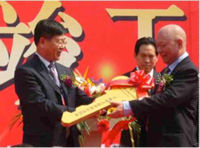 Photo: Mr Song Jia Jing, Group Chairman of DHI.DCW (Left), hands over the 20,000MT crane start-up key to Mr Brian Chang, Chairman of Yantai Raffles Shipyard (Right).

(enlarge photo)

Constructor Yantai Raffles Shipyard, the offshore and marine fabrication specialist, describes the achievement as a significant milestone in its digital transformation.

"Taisun is earmarked for 10 lifts over the next 20 months. Each lift estimated at 10,000—16,000 metric tons and we expect it to save over 2 million man hours for each semi-submersible," says Brian Chang, chairman, Yantai Raffles Shipyard.

"With Taisun, Yantai Raffles Shipyard believes that it has revolutionized the way major offshore projects will be built in the future. The drivers are safety, quality and time, which all equate to cost. With Dassault Systèmes PLM and Taisun, Yantai Raffles Shipyard is well on the way to have the best process for designing and manufacturing extreme projects."

Fixed dual-beam 10000t+10000t Gantry Crane
* Overall Height:122m
* Overall Length:130m
* Span:120m
* Lifting Height:70m
* Lifting Capacity:20000mt