Friday, July 31, 2009

Highest waterfall kayak plunge-world record set by Tyler Bradt

Palouse Falls, Washington, USA -- Tyler Bradt, 22, paddled over 186 ft. tall Palouse Falls-setting the new world record for the Highest waterfall kayak plunge.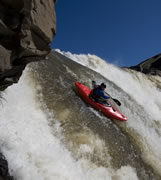 Photo: It took him a grand total of 3.7 seconds to plummet 186 feet, and he reached at least 100 miles an hour in the midst of his gigantic fall. He bested the previous world record by 59 feet.(enlarge photo)

The only injury the 22-year-old suffered was a sprained wrist and a broken paddle as he fell for four seconds over Palouse Falls before reaching the bottom.

Tyler visually ran the waterfall countless times before climbing into his kayak. His support and safety team looked on and waited.

Afterwards, he said: "I have been passionate about running waterfalls for a while now. I had come to a good understanding of what I believe I am capable of and what is possible. Palouse was a calculated decision to reach further into the unknown and make a dream a reality."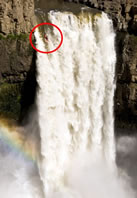 Photo:It took him only 4 seconds to complete the fall and after some anxious moments, emerged safely in his kayak. As he emerged from the fierce spray carrying half a paddle, broken in the violent descent, he held his hands aloft, amazed and unscathed. (enlarge photo)

Bradt had previously set a record in 2007 when he took a kayak over the 107-ft Alexandra Falls in Canada, but his feat was surpassed by a Brazilian rival went down 127-ft Salto Bello falls in Brazil.

High-res footage of this descent will be featured in the upcoming film "Dream Result", produced by Tyler Bradt and Rush Sturges. Check their websites at Rev-Inn.com and River-Roots.com for more images and video.

Related world records:
Highest jump on a motorcycle-world record set by Ronnie Renner

Fastest bicycle wheelie-world record set by Jake Drummond

Longest Backwards Limbo Skating Under Bars - Abhishek Navale sets world record

Most people walking on stilts-world record set by Cirque du Soleil

Fastest jet-pack flight-world record set by Eric Scott

Longest Wall of Fire-world record set at Yuma Air Show

Fastest Freestanding Brick Breaking-world record set by Bernd Hoehle

Highest motorcycle jump-world record set by Robbie Maddison

Highest Bicycle Ramp Jump-world record set by Timo Pritzel and Joscha Forstreuter

Friday, July 31, 2009