Fastest Freestanding Brick Breaking-world record set by Bernd Hoehle

HANNOVER, Germany -- Bernd Hoehle, 34, Martial Arts Expert, have smashed 12 Freestanding Bricks in just 8 seconds-setting the world record for the Fastest Freestanding Brick Breaking.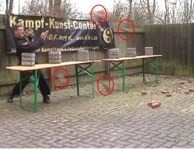 Master Bernd Höehle :
"For Breaking of freestanding Bricks you not need only Power you must be very Fast.
If you are not fast than the Stones will fly but they will not be broken.
(enlarge photo)
I have smashed 12 freestanding bricks in 8 sec, using my empty hands in full concentration of Speed and Power and the Mental concentration, by 'turning off' the pain.
The Key in Martial Arts is the respect for all and the full concentration yourself".

Master Bernd Höehle is a geman Martial Arts Expert; he is World champion in Breaking, he has received a Gold Medal in Wushu from the Beijing Education University in Peking.
He is Consultant of Sport of Kingdom of Ghana and Personal Instructor of His Royal Highness King Togbui Ngoryifa Olatidoya Kosi Cephas Bansah.

Master Bernd Höehle said: "Martial Arts is a lifetime way of life. The Philosophy you can live and must the spirit of the Martial Arts in your heart and mind. The spirit is Politeness, Sense of honour, Patience, Self control, Justice, Wiscom, Mercy, Honesty, Courage and Endurance".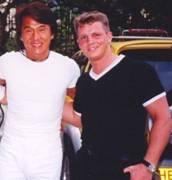 Photo: Master Bernd Höehle has visited his Idol Movie Star Jacky Chan in Hong Kong. (enlarge photo)

Master Bernd Höehle was on TV Shows in different countries and Actor in TV & Movie film with called " NO Way ".
Movie Star Dr. Chiu Chi Ling appointed him as World Hung Gar Ambassador of Int. Chiu Chi Ling Hung Gar Association & Wong Fei Hung Alumni Association.

Mr. Hoehle is Headmaster of the Martial Arts Association – International www.MAA-I.com with over 1000 Martial Arts Schools in over 120 Countries

Besides it which distinguished recently thus of US President George W. Bush with the Presidential Gold's Award and has recived a of sport Award from the Saudi Arabia Prince Bader am Saud am Mohammad Mogren Aluminium-Saud and Honoary Certificate from the President of the Federal Republic of Germany.

Related world records:
Highest motorcycle jump-world record set by Robbie Maddison

Highest Bicycle Ramp Jump-world record set by Timo Pritzel and Joscha Forstreuter

Fastest Text Messaging While Skydiving-world record set by Samsung Mobile

Most consecutive kickflips on a skateboard-world record set by
Zach Kral

Back flip in a wheelchair -world record set by Aaron Fotheringham

Highest and longest bike-ride - Nick Wallenda sets world records

Saturday, January 10, 2009