Fastest jet-pack flight-world record set by Eric Scott

Knockhill Racing Circuit, Scotland, UK -- Internationally renowned Go Fast! Jet Pack pilot, Eric Scott, 46, from Denver, USA, was clocked reaching 68mph while harnessed to the jet pack, powered by hydrogen peroxid -setting the world record for the Fastest jet-pack flight.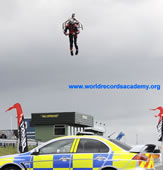 Eric said: "I knew this was going to be a special weekend for breaking records. Knockhill is a great location and when the weather improved it was all about going fast!"(enlarge photo)

Mr Scott, 46, who worked as a stuntman on films such as Poison Ivy with Drew Barrymore and the TV series Walker, Texas Ranger starring Chuck Norris, said the wind had curtailed his speed.

In November 2008 Eric became the first jet-propelled man to cross the 1,053ft wide Royal Gorge Canyon in Colorado, USA. Mr Scott has clocked up nearly 1,000 solo flights.

The jet pack currently carries only enough fuel to last about 30 seconds, but a new device is in development that will eventually allow up to 30 minutes of flying time.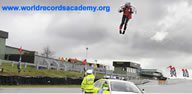 Adjudicators from Fife Constabulary used speed laser guns to measure Mr Scott's attempt which could put him in the record books.

(enlarge photo)

PC James Henry, from Fife Constabulary, who will be promoting road safety at the event, said: "Officers were pleased to be involved with Eric's world record attempt for the Fastest jet-pack flight. "At least on this occasion he did not mind being caught speeding."

Mr Scott said: "It's just that sensation that you get when you take off. It's amazing."


Related world records:
Longest Wall of Fire-world record set at Yuma Air Show

Fastest Freestanding Brick Breaking-world record set by Bernd Hoehle

Highest motorcycle jump-world record set by Robbie Maddison

Highest Bicycle Ramp Jump-world record set by Timo Pritzel and Joscha Forstreuter

Back flip in a wheelchair -world record set by Aaron Fotheringham

Highest and longest bike-ride - Nick Wallenda sets world records

Most bungee jumps in 24 hours-world record set by Mike Heard

Longest farm tractor wheelie-world record set by Mike Hagan

Driving a car through the smallest gap-world record set by Dave Ackland

Longest farm tractor wheelie-world record set by Mike Hagan

Longest Tram-pulling stunt

Most coconuts broken-world record set by Sarada Lahangir

Most roll-downs from aerial silks-world record set by Brandon Pereyda

Monday, May 11, 2009