Most roll-downs from aerial silks-world record set by Brandon Pereyda

[Nov 27]COLOGNE, Germany--Chippendales dancer Brandon Pereyda succeeded in breaking the world record for the most vertical "roll-downs" on aerial silks.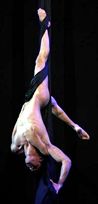 With a total of 13 rolls in one minute, Brandon rolled his way into the next Book of World Records, becoming the first Chippendale to break a record. (These boys are usually more acquainted with breaking hearts...)
(enlarge photo)

Brandon Pereyda is currently performing in Chippendales as a Lead and a Specialty Aerial Act, as well as performing freelance aerial around the nation.

Brandon Pereyda has ten years of gymnastics training, including four years of coaching. He has participated in four years of competitive cheerleading, two of which were in competitive college All-Star Cheerleading and one with UNLV competitive cheer.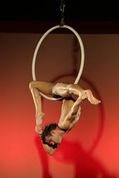 Brandon Pereyda has four years of training in aerial apparatus including Aerial Flying, Silk, Straps, Hoop, Harness, Spanish Web, Web, Chains, Trapeze, Hammock and Hand-Loop. While working for Franco Dragone, Brandon had one year of intensive synchronized swimming training by Olympic coach Stephan Meirmont.

(enlarge photo)

Brandon Pereyda and the other Chippendales perform nightly at the Rio in Las Vegas.

Chippendales' Brandon Pereyda Breaks World Record Video

Brandon Pereyda on Americas Got Talent Video



Brandon Pereyda at KRAVE Defying Gravity Video



[ Submit a world record ] [ World Record Certificate]
[ Book of World Records ] [ World Records Store ] [ Club ]