Lowest Backwards Limbo Skating-world record set by Zoey Beda

[March 17]OAKDALE, Wis.,USA--Zoey Beda has set the world record for backwards limbo skating: so far, she is the only person in the world doing backwards limbo skating!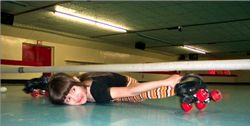 Roller limbo is the sport of trying to go under a bar that gets progressively lower without out touching the floor or knocking off the bar, all while being on roller skates. The lowest a select few can go is around 12 inches.
(enlarge photo)

Zoey Beda was able to get down to 12" or 11" without any problem, she wanted to go lower, so she did. Zoey's lowest right now is right around 7", or about the height of 3 tennis balls stacked on top of each other.

Zoey also has been practicing her limbo, but going backwards.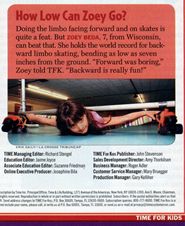 Mark Beda, Zoe's father, said Zoey cleared 7 inches, thanks in part to a new set of wheels on her skates that are lower to the ground.

(enlarge photo)

This all began in September at Zoey's seventh birthday party at Flying Wheels, about 5 miles east of Tomah. She never had skated before. She's not in gymnastics and, until then, never knew she was unusually flexible. Then, in a pair of cheap Barbie skates, she tried the limbo. "And we've been here (at the rink) every weekend since," Mark Beda said. "She took limbo to the extreme."

In most ways, Zoey Beda resembles other first-graders. She loves doing the "Macarena" dance. She plays on the monkey bars. She can't wait to see "Spiderman 3." She picks strawberries and eats more than she keeps. She loves her kitty, Jazz. One difference: She and her family follow a vegan diet. She loves cauliflower, both raw and cooked.

Video: The Littlest Limbo-er at Ellen Show
Limber little Zoey Beda amazed Ellen and the audience when she did an extremely low limbo while wearing roller skates.

Link: Zoey Beda's website

Related:
Longest Limbo Skating-Aniket Chindak sets new world record

Longest Limbo Skating-world record set by Aniket Chindak