Monday, June 18, 2012

Most expensive pizza: Steveston Pizza Co. sets world record (PICS)

VANCOUVER, BC, Canada -- Steveston Pizza Company, owned by Nader Hatami (Chef Gordon Ramsey) is the seller of a $450 pizza, made with of lobster thermidor, Alaskan black cod and a side of Russian osetra caviar. called C6 - which sets the new world record for the Most expensive pizza (without Gold), according to the World Record Academy: www.worldrecordacademy.com/.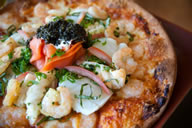 Photo: Canadian pizzeria branch Steveston Pizza Co. have created the $450 pizza, called the C6, has made the Book of World Records as one of the most expensive pizzas in creation. (enlarge photo)

Hatami also has another, not-so-expensive pie, he sells for for $120. Called the C5, this one is made with roasted garlic, Icelandic scampi, smoked steelhead and lobster ratatouille. He's sold seven of those.

The Guinness world record for the most expensive pizza, commercially available, is a £1,400 (then $2,500) per 1 kg (2 lb 3 oz) pizza. Depending upon the amount of truffles available each season, the pizza is regularly sold at £100 (then $178) each to customers of Gordon Ramsey's Maze restaurant, London, UK.

Guinness World Records also recognized the world record for the largest collection of pizza-related items; it belongs to Brian Dwyer (USA) with 561 different items from all over the world.

Stevenson Pizza Co., a pizzeria chain in British Columbia is making a pizza with thermidor of lobster, black Alaskan cod and a side of Russian Osetra caviar, reports the Calgary Herald.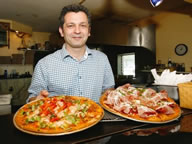 (enlarge photo)

Called C6, you have to order it a day ahead, though. Not surprisingly, Nader Hatami, the owner of Stevenson Pizza Co. reportedly only sold one pie to "a very rich person."

"The idea was to make a culinary statement. I don´t know if you´ve tried our pizza but each one is pretty unique," Hatami explains. The Steveston Pizza Company also offers run-off-the-mill pizza starting at $14.

Related world records:
Largest gluten-free pizza: Steven and Veronica Negri set world record

Most pizzas made in one hour: Brian Edler

Most expensive pizza: Margo's Pizzeria

Most pizzas made in 24 hours: Taft Domino's Pizza

Longest Pizza: Magillo Pizzeria

Longest line of pizzas: Jerry's Pizza

Most Expensive Lunch: Warren Buffett charity lunch sets world record (VIDEO)

Most Expensive Hot Dog: Hot Dog Mike Juiliano sets world record (PICS & VIDEO)

Most expensive tuna fish: $736000 tuna fish sets world record (Video)

Most expensive mince pie: Andrew Stellitano

Most expensive hot dog: The Brockton Roxs (Video)

Most Expensive Kebab: $1227 kebab (Video)

Most expensive hot dog: Serendipity 3

Most Expensive Ham: Manuel Maldonado

Most Expensive Seafood Hamper: The Fish Society

Most expensive Schnitzel: 'Golden Imperial Schnitzel'

Most expensive pot: Fissler's saucepan

Most expensive Burger: Burger King

Most expensive ice cream sundae: Serendipity 3

Most Expensive Watermelon: Densuke watermelon

Most expensive barbecue: BeefEater

Most expensive display wedding cake: Dallas Bridal Show

Monday, June 18, 2012 6:59 AM