Saturday, May 12, 2012

Most Expensive Hot Dog: Hot Dog Mike Juiliano sets world record (PICS & VIDEO)

LITTLE ROCK, Ark., USA -- Food cart vendor "Hot Dog Mike" Juliano sold four $1,501 hot dogs; TheONEdog it's a hot dog with lobster tails, gold flakes, saffron and high quality beef - setting the new world record for the Most Expensive Hot Dog, according to World Record Academy: www.worldrecordacademy.com/.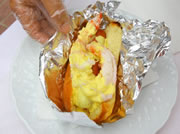 Photo: Gold-dusted, lobster-topped hot dogs sold for $1501 each to benefit the One, a non-profit that provides aid to local homeless people. (enlarge photo)

The Guinness world record for the most expensive hot dog is the Dragon Dog which sells for CAD $100 (US $100.70, GBP £63.56) at DougieDog in Vancouver, British Columbia, Canada.

Guinness World Records also recognized the world record for the longest hot dog; it measured 203.80 m (668 ft 7.62 in) and was made by Novex S.A. (Paraguay) at the Expoferia 2011, in Mariano Roque Alonso, Paraguay.

"We're putting a lobster tail, saffron, which is a very expensive spice. It comes in a little weird bag, it's like $66, I bought that, I made an aiello out of it and I've got some edible gold flake which gets sprinkled on top. It's just like a surf and turf theme. It's delicious," Julliano says.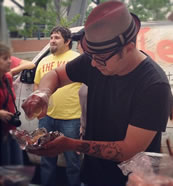 Photo: Hot Dog Mike Juiliano, preparing The World's Most Expensive Hot Dog. (enlarge photo)

Juiliano said he had the idea about a month ago to sell an expensive hot dog to raise money for homeless support nonprofit The One, Inc., also known as "The Van."

He tweeted his idea about a month ago, and his followers instantly started bidding against each other on "theONEdog." In an hour and a half, the price was up to $1,500. Juiliano said that he made it $1,501 because we are in Little Rock, and he is "clever like that."

Related world records:
Most Expensive Hot Dog: $100 "Dragon Dog" sets world record (HD Video)

Most expensive tuna fish: $736000 tuna fish sets world record (Video)

Most expensive mince pie: Andrew Stellitano

Most expensive hot dog: The Brockton Roxs (Video)

Most Expensive Kebab: $1227 kebab (Video)

Most expensive hot dog: Serendipity 3

Most Expensive Ham: Manuel Maldonado

Most Expensive Seafood Hamper: The Fish Society

Most expensive Schnitzel: 'Golden Imperial Schnitzel'

Most expensive pot: Fissler's saucepan

Most expensive Burger: Burger King

Most expensive ice cream sundae: Serendipity 3

Most Expensive Watermelon: Densuke watermelon

Most expensive barbecue: BeefEater

Most expensive display wedding cake: Dallas Bridal Show

Saturday, May 12, 2012 7:14 AM