Tuesday, July 31, 2012

Largest falafel: Jordan sets world record (PICS & VIDEO)

AMMAN, Jordan -- 10 chefs from the capital's Landmark Hotel made a giant falafel weighing 74.75kg which sets the new world record for the Largest falafel, according to the World Record Academy: www.worldrecordacademy.com/.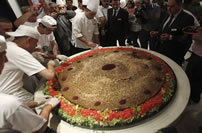 Photo: Jordanian chefs decorate the world's largest falafel. Photo: Reuters
(enlarge photo)

The previous Guinness world record for the largest falafel was set last year in the US when a 23.95kg ball of falafel was made at the Santa Clarita Valley Jewish Food and Cultural Festival in California.

Guinness World Records also recognized the world record for the largest serving of falafel: 5,173 kg (11,404 lb 8 oz), achieved by Chef Ramzi Choueiri and the students of Al-Kafaat University (all Lebanon) in Beirut, Lebanon.

The world's largest falafel was later offered as a starter during an iftar meal attended by 600 people.

"We invited people to attend this remarkable event. It is a nice opportunity for children and adults to watch the process of making the largest falafel," said Samya Bader, a spokesperson from the Landmark hotel.

"It is a great honour for us. We are proud. Falafel is a part of our tradition and heritage and I am glad to see that we proved that," said a participant at the event who did not want to be named.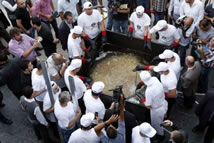 Photo: The largest falafel in the world was deep fried in 350 litres of vegetable oil. Photo: EPA (enlarge photo)

According to a statement issued by the organisers, the world's largest falafel was made using 80kg of chickpeas, 5kg of onions, 2kg of fresh parsley and coriander, 1.2kg of garlic, and was deep fried in 350 litres of vegetable oil.

"The falafel is a traditional Arabic food and so naturally this record should be held here. As a local hotel proud of its Jordanian roots, the Landmark Amman wanted to mark this special time of year by doing something truly extraordinary and bringing the falafel record to Jordan," the statement quoted Landmarks Hotel Company General Manager Aysar Batayneh as saying.

Related world records:
Largest nacho serving: Kansas Relays set world record (Video)

Longest Fruit Snack: Sun Rype sets world record (HD Video)

Largest cheese platter: World Cheese Awards

Largest dumpling: Baoding Chefs

Longest taco - world record set by Mexico City

Largest cheese fondue - Fond du Lac

Largest plate of nachos - Northstar Church

Largest Rice Krispies treat - The Community Center of La Cañada Flintridge

Largest hummus dish - Israeli chefs sets world record

Largest hummus plate - Lebanese chefs

Largest Kebbe Dish - Maydan Institute

Largest prawn cocktail - SAGB

Largest popcorn ball - Noble Popcorn Factory

Largest ceviche - Peruvian chefs

Largest pupusa - Los Angeles Gastronomical Festival

Tuesday, July 31, 2012 3:44 PM