Most bier steins carried over 40 metres-world record set by Reinhard Wurtz

SYDNEY, Australia -- Reinhard Wurtz, 40, a Bavarian-born Sydney restaurant manager, carried 20 steins of beer for 40 metres at the Lowenbrau Bierhall in Sydney's Rocks-setting the world record for the Most bier steins carried over 40 metres.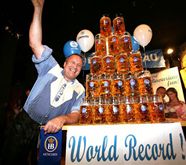 Photo: The burly German ex-pat, who manages the Lowenbrau restaurant, carried an incredible 20 one-litre steins full of bier, through an obstacle course of tables, chairs and Thursday-night revellers, to claim the title. (enlarge photo)

"The secret to stein-carrying is you need to have long, slender fingers - but you also need strong, manly arms," he said. "Having a passion for what you do and a love of drinking beer also helps, especially in the practice stages when you tend to spill a lot. "I always drink wheat beer because it has 14 amino acids to help muscles grow," he said.

With each beer-filled stein weighing at least 2.5 kilograms, Mr Wurtz carried 50 kilograms of beer and glass in the record-breaking effort.
Wurtz said it was the amino acids in his favourite wheat beer that gave him the strength to carry close to 50 kilograms across the bar in the harbourside Lowenbrau Keller, Australia's biggest German beer barn.

Also helping was a ready supply of bretzel, the home-baked Bavarian pretzel. Next year Wurtz is contemplating a bid to improve his record.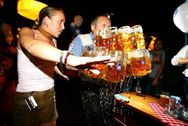 Even though each stein weighs 2.3 kilograms – for a total weight of some 46 kilos - Reinhard says with the right training regime, the record was always destined to be his.
(enlarge photo)
"There's a wheat bier I like – I also like pretzels," he told us about his preparation.

When asked before the event if he felt the pressure because the record was held by a woman – Reinhard was airily dismissive. "I thought 17 was a little easy, so I thought I'd do 21 to show off a little." Although one stein hit the deck Reinhard still easily cleared the record with 20 and after the official announcement he was even cockier.

Bavarian-born restaurant manager Reinhard Wurtz, who recently became an Australian citizen, took the world title for the Most bier steins carried over 40 metres from Munich barmaid Anita Schwartz, who managed to cart 16 steins the requisite distance.

Related world records:

Most Varieties of Rum Commercially Available-Marco Polo Hotel sets world record

Largest Lemonade-Tulsa Chick-fil-A Restaurant sets world record

Largest champagne glass-Vini nel Mondo sets world record

Largest cup of coffee-world record set by Vinacafé Bien Hoa

Fastest cocktail mixing-world record set by Bobby Gleason

Largest tea party-world record set by Indore

Most Expensive Champagne-world record set by Perrier-Jouet

Most expensive bottles of whisky is a Bowmore


Tuesday, December 16, 2008