Largest cup of coffee-world record set by Vinacafé Bien Hoa

[April 14] HANOI, Vietnam--Vietnam's leading coffee producer and exporter Vinacafe Bien Hoa has set the world record for largest cup of coffee with a cup which holds 3,613 liters of coffee, enough for over 30,000 people to drink.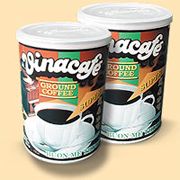 Nguyen Thanh Tung, marketing director of Vinacafe Bien Hoa Joint Stock Company: "Other coffee cups in the world are merely cups. Our cup is used to make coffee."

To make coffee from 818 kilograms of instant coffee in its giant stainless steel cup, the company had to mobilize over 100 people to simultaneously do the work skillfully, he said.

Vinacafe Bien Hoa made after-tax profits of more than 108.3 billion Vietnamese dong (VND) (6.8 million U.S. dollars) in 2007, up 80.6 percent against 2006. Its total asset stood at 379.4 billion VND (23.7 million dollars) by the end of last year.