Longest toy train track-world record set by Thomas the Tank Engine

TAMWORTH, UK -- A 1.8km train set, made of 10,530 pieces from the Thomas Track Master set, was build at Thomas Land at the Drayton Manor Theme Park-setting the world record for the Longest toy train track.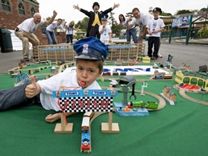 Photo: Ethan Bryan, eight year old son of Drayton Manor general manager George Bryan, blows the whistle on the new world record, assisted by sister Anais-Lorren, local visitor Thomas Land (right) and the Fat Controller. (enlarge photo)

There are 48 spirals of track in total and the whole track takes up an area 3 meters wide by 50 meters long.

The track took a team of six people two weeks to design and was built by the Royal British Legion Industries.

The completed structure is long enough to surround the football pitch at Wembley five times.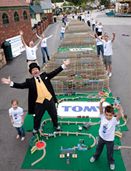 The train set is built in sections of five tier high spirals interspersed with popular Thomas destinations from the Island of Sodor.

(enlarge photo)

Drayton Manor, which recently became home to Europe's only Thomas Land attraction, teamed up with toymakers Tomy and Hit Entertainment to try and break the world record.

Tomy's chief executive Robert Mann said the team wanted to design "the most magnificent train track in the world".

He said: "It was a challenge to build, but after a bit of huffing and puffing we have reached our destination and now have a fantastic 1.8km long train set. We are waiting with great anticipation for Guinness World Records to confirm we have broken the world record."

Drayton Manor's managing director Colin Bryan said it was "an amazing occasion".

Fun facts
The record breaking Thomas & Friends track was made up of the following elements:
5,500 straight pieces of track
3,125 curved pieces of track
10 flat end turn out with switch track (mix of left and right)
10 slope track curves
50 girders (level 1, 2 and 3)
20 bridges
10 Harold at the Hangar
10 Sodor Mountain mines
10 Cranky at the Docks
20 stations
15 Tidmouth sheds
50 Signal posts
1,700 customised supports
Total of 10,530 pieces

The previous world record for the Longest toy train track was 1,650.14 metres at Thomas Land in Japan.

Related world records:
Largest miniature railroad-world record set by Miniatur Wunderland

Biggest aircraft model-world record set by Airbus A380 model

Largest jigsaw puzzle-world record set by Ravensburg

Largest pinewood derby track-world record set by "Goliath"

Longest letter to Santa Claus-world record set by the Romanian Post

Tallest Lego Tower- Legoland park sets world record

Monday, December 29, 2008