Largest pinewood derby track-world record set by "Goliath"

[March 2]GREAT FALLS, MT,USA--The largest pinewood derby track measures just more than 24 feet tall, and 192 feet long, was designed by Dean Dunlap and build by The Royal Rangers and Missionettes of Montana. It is more than 70 feet longer than the track which previously held the record.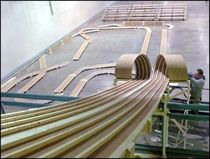 Photo: Norm Miller and Dean Dunlap (hidden under loop of track) construct what they hope will be the world record longest pinewood derby track in the Four Seasons Arena on Thursday. The track host a statewide derby race Saturday morning. /TRIBUNE PHOTO/ STUART S. WHITE
(enlarge photo)

Track designer, Dean Dunlap: "Our decision wasn't to make a world record breaking track. Our decision was to do something different out of the ordinary. We started building. We made modifications and it was someone outside the organization that suggested we had the record."

Previous record: 21 feet high and 125 feet long, set Jan. 6 at the Indiana State Museum.